For the last 44 years, Misquita Bakery and Sweets is owned by a Muslim family. The speciality of this bakery is its delicious Hot Cross Buns that are only available once a year. Misquita Bakery's Hot Cross Buns are equally popular among the Christians, Parsee, Sikhs and Muslims.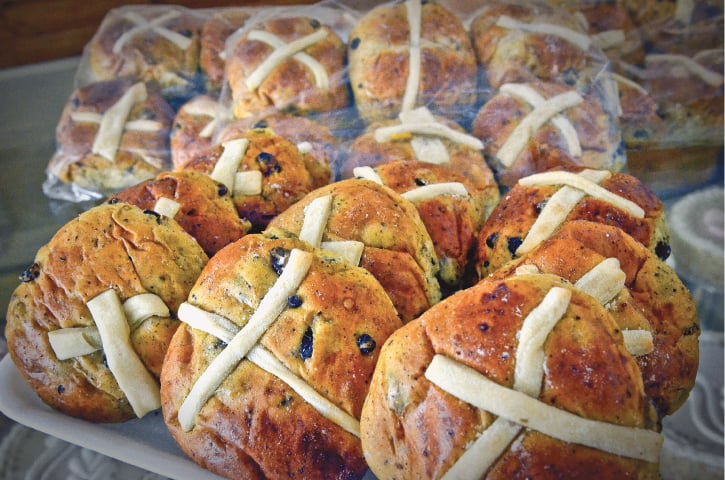 After Christmas, Easter is the holiest occasion for the Christian community in Pakistan. After a long 40 days of fasting, the Christian community celebrated Easter. In churches, Good Friday prayers are offered and the Christian Community celebrates it according to their norms and traditions.
Read More: List of Bundu Khan bakeries in Lahore.
More than that, there is something very important and significant that is linked with Christian tradition and that is the Hot Cross Buns of Misquita Bakery Karachi. These hot cross buns are only available once a year and the wait to purchase these buns is sometimes really annoying. 
The hot cross buns of Misquita bakery are only available on the occasion of Easter for the Christian community. In the Sadar area of Karachi, there is the Misquita bakery that is present before the partition of the Sub-continent. 
Over the years, Misquita bakery and sweets are making fresh and tempting hot cross buns for Christians in Karachi. Its baking process starts a month in advance. After the baking process and on Wednesday (before Good Friday), the bakery only deliver the booking orders. From Thursday, the counter sale of hot cross buns is started. 
There is extreme competition among the bakeries in Karachi but the secret recipe of Misquita Bakery is the reason for its popularity. The demand for Hot Cross Buns has skyrocketed that after the production of almost 3,000 dozen buns the demand for this product still remains the same.
In the early 1980s, there existed a Lawrence Bakery that then moved to Canada. After that, the Misquita Bakery took this tradition on its shoulders to serve the people of the Christian community with freshly baked hot cross buns.
Misquita Bakery's hot cross buns and Easter egg chocolates are marvellous and heavenly delicious. Many of the people lead to their childhood while purchasing and some find themselves here due to their taste.
According to the owner, several customers demand to bake the hot cross buns throughout the year but he considers this product a special treat for the Christian community. That is why his bakery produces these buns once a year at the event of Easter. 
Contact and Address of Misquita Bakery, Karachi
Contact No: 0349 0217153
Address: Haider Manzil, Mansfield Street, Lane 3, Near C.I.A. Centre Saddar, Karachi-Pakistan. Karachi, Sindh, Pakistan-74400\
Coordinates: 24.86114819882963, 67.03212367232896
Social Links