Located at the Poonch Road, Islamia Park Lahore, KB Burgers is the oldest Burger point in Lahore. It established in 1983 and is now run by the 2nd generation of the owner.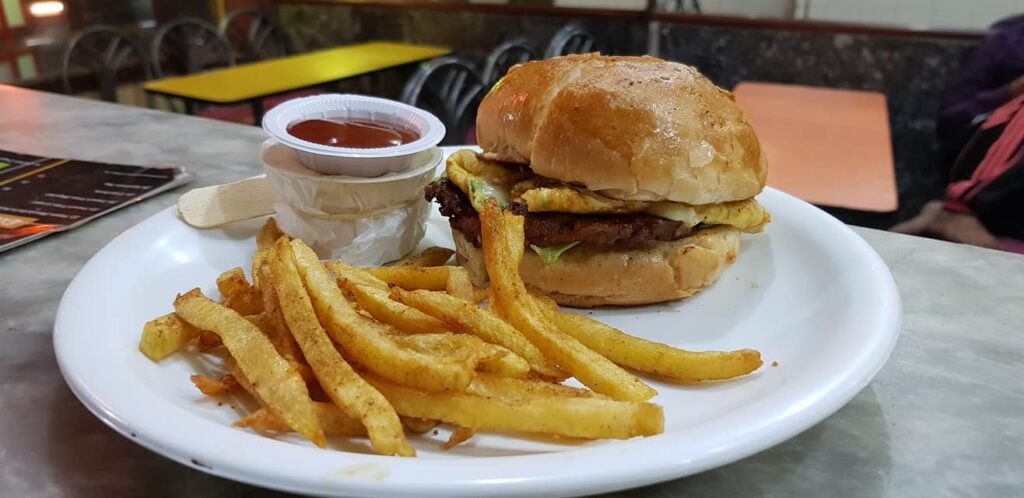 The oldest burger point in Lahore, KB Burgers owner name is Umar Aziz Tipu who is the son of the owner who established the shop in 1983. The owner says that when the shop was established, there were no burger shops in Lahore except some burger stalls. According to him, his father is the pioneer of opening a proper burger point in Lahore. 
The people who used to visit in their teen ages are now adults and have become parents too. Now, they often visit the place with their children and families. According to the old and loyal customers of KB Burgers, the taste and quality of KB Burgers hasn't changed. It's the same as it was in the 1980s or 1990s.
Upon asking the speciality of KB Burgers, the owner replied that the beef burger is their speciality. Their beef burgers are made with traditional masalas that are processed and ground in the stone mill to provide a delicious taste in the town. 
The products sold by KB Burgers are made with fresh meat mince that is purchased on every new day. The shop doesn't provide its customers with the old food.
Other than this, the owner purchases the beef on his own by a vendor by whom they are purchasing since 1983. After purchasing, the mince of beef is made at the burger shop. Moreover, the masalas they use in the mince are purchased from the Akbari Mandi, Lahore.
The owner completes the basic process and marination of masalas in the mince. Then the mince is left for 2-3 hours to get the best flavour in mince. After this, beef patties are made that are used in burgers.
Furthermore, the owner says that there is no variation of taste in their burgers. Hence, the old visitors still used to say that the taste of burgers is the same as it was in the father's time. And this is due to the reason that the marination is done by the owner. However, a little initial training is delivered to the new chefs to know the procedure of cooking and assembling.
Address and Contact Number of KB Burgers, Lahore
Address: 6 Poonch Rd, Pounch House Colony Islamia Park, Lahore, Punjab 54000, Pakistan
Coordinates: 31.549335353286995, 74.3023791727774
Contact Number: +923224040373
Facebook Page: https://www.facebook.com/kbburgers/