Hi tea is a meal which includes tea with other items. The time for Hi Tea varies from later afternoon to evening. High tea includes snack foods such as sandwiches, pastries, jams, salads, donuts, tarts, toasts and butter etc. As it was introduced by British to start this trend, it became popular soon. Asians have also adopted this trend and in Pakistan people love Hi tea concept. Lahore is a city of food and in this city; there are many restaurants and cafes which are offering Hi tea. So here we will suggest best places to have hi tea in Lahore with prices and address.
Lavish and High Priced Hi-Tea Places
Here is a list of restaurants which are offering expensive High tea with variety of quality food in their menu.
1- English Tea House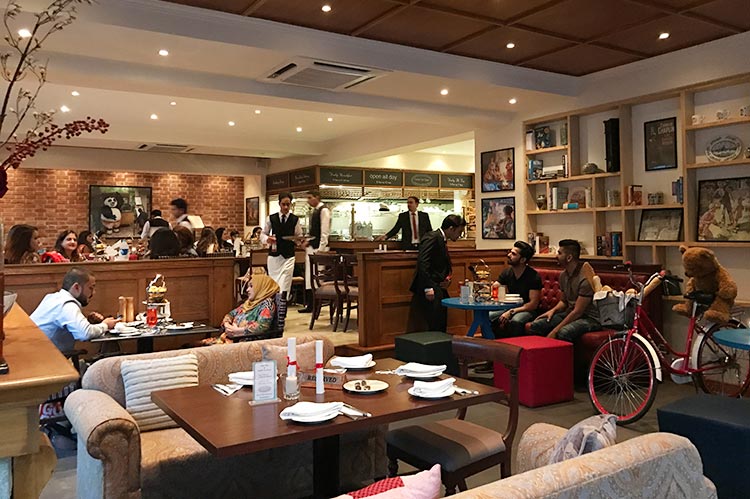 English Tea House is Lahore's favorite tea house and cafe where one can get delicious freshly baked items served with butter and cream. The café has a vibrant atmosphere with cozy and comfortable sitting reflecting classy outdoor décor settings. They offer Breakfast, Lunch, Afternoon Tea and Dinner. Also, they offer best Hi Tea with conventional dishes to satisfy your taste buds with both traditional and modern cuisine. The Hi Tea time is in after noon served daily from 2pm to 5pm.
| | |
| --- | --- |
| Address | Sir Syed Rd, Gulberg II Lahore |
| Price | 1270 PKR |
| Contact No. | 042-35715535-36 |
2- X2 Cafe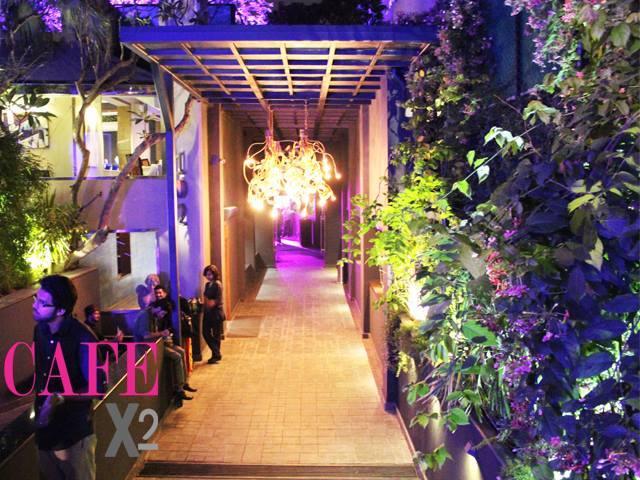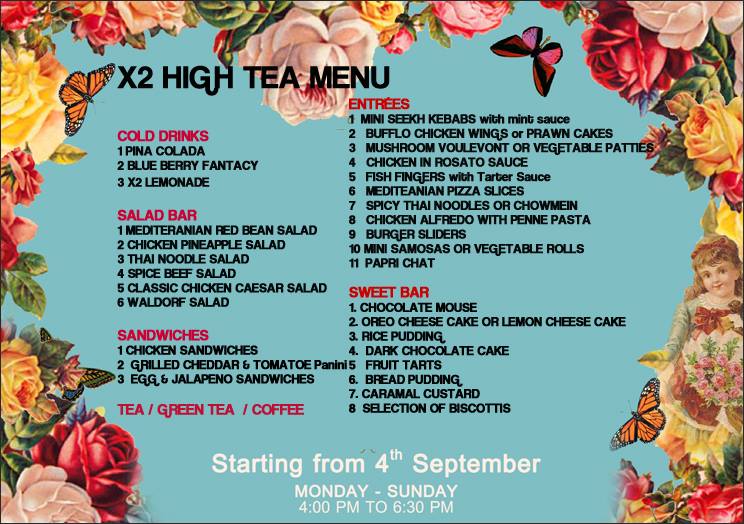 X2 Cafe located in the heart of Gulberg where every meal feels like celebration. It has got perfect Pan Asian food options offering Hi Tea, Dinner and Lunch options. It's the trendy continental food spot in town with the perfect balance of traditional and uniqueness. Customer services are at its best, they have taken their dining experience to next level of imagination. The menu has continental food to all bakery items.
| | |
| --- | --- |
| Address | Gulberg 3، Near Hussain Chowk، Lahore |
| Price | 1154 PKR plus Tax |
| Contact No. | 042-111-222-102 |
3- The Cube By Nishat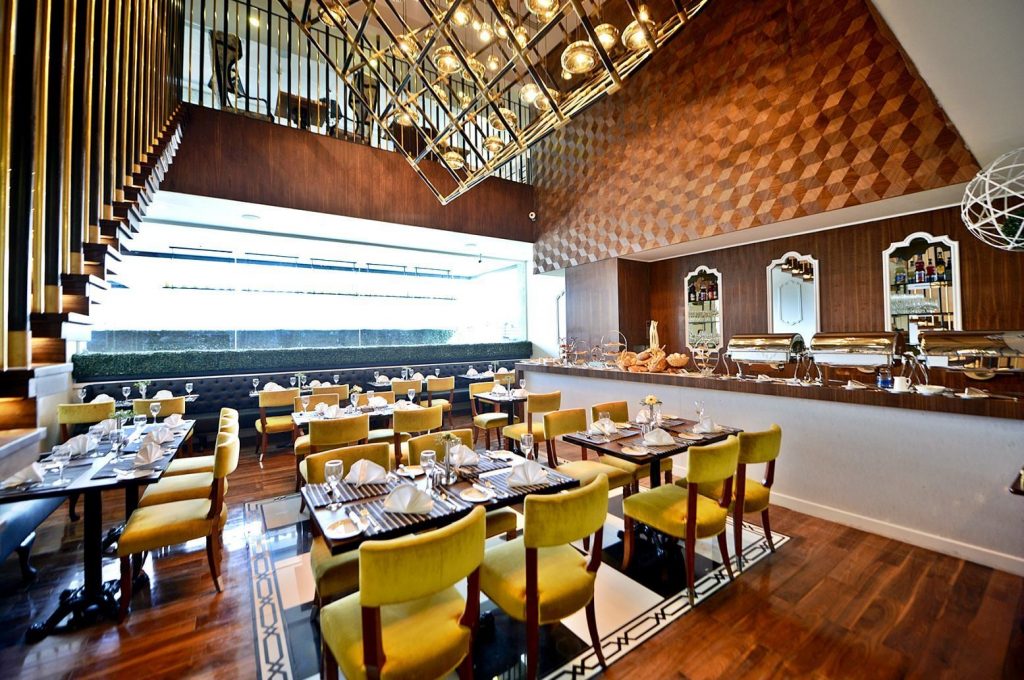 The Cube by Nishat is a small hotel with innovative dining space to attract people. You will love the atmosphere when you get in. They recently have changed their menu to European menu offering spicy or mild, vegetarian, meat or seafood prepared with the best quality beef, seafood and vegetables. Perfect timing to visit this spot is at lunch and enjoy their Hi Tea which is a unique and thoroughly delightful choice for everyone.
| | |
| --- | --- |
| Address | Mian Mehmood Ali Kasoori Road, Lahore |
| Price | 1150 PKR |
| Contact No. | 111-000-777 |
4- La Atrium Restaurant By ChenOne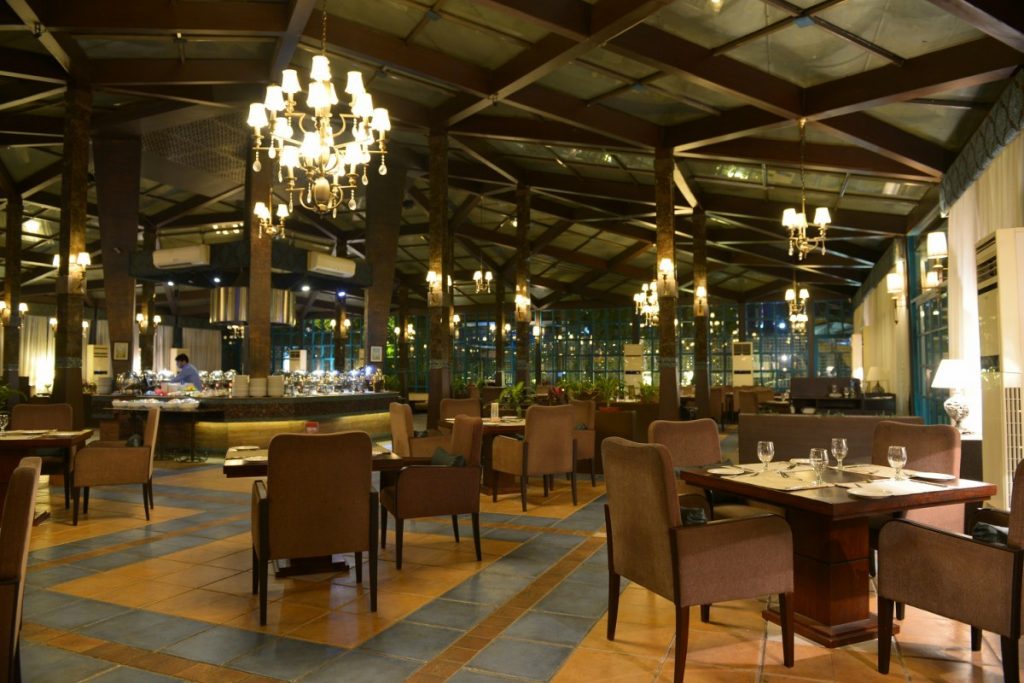 La Atrium Restaurant located in the heart of Lahore at MM Alam Road built with glass walls and high ceiling illuminated with lights that gives beautiful atmosphere especially in winters, it looks stunning. The menu has a range of fresh salads, Chinese and Pakistani mains and yummy deserts. All food options have different flavor in each of their dishes. The dinner buffet starts at 9pm which costs Rs799 plus tax.
| | |
| --- | --- |
| Address | Mian Mehmood Ali Kasoori Road, Lahore |
| Price | 899 PKR |
| Contact No. | 0322-9900099 |
5- Chhintalia Restaurant & Cafe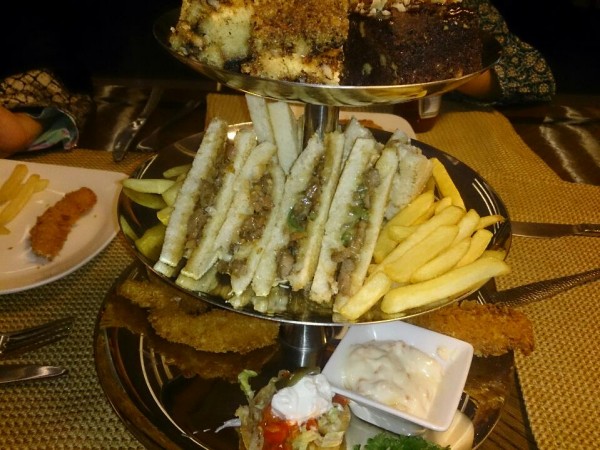 Chhintalia restaurant located opposite to Doctor Hospital above Nishat store. It is an Italian restaurant so they don't have Desi food variety but it's is one of the best dine in places in Lahore. Customer services are quite great at this place. You will find town's best Fusion Food items with bouquet of Italian, BBQ, Chinese and Mediterranean Cuisines with amazing presentation for variety of delicious mock tails, smoothies and in house bakery with mouthwatering Deserts.
| | |
| --- | --- |
| Address | G1 Market Johar Town, Lahore |
| Price | 895 PKR |
| Contact No. | 03013040114 & 04235462829 |
6- Veranda Bistro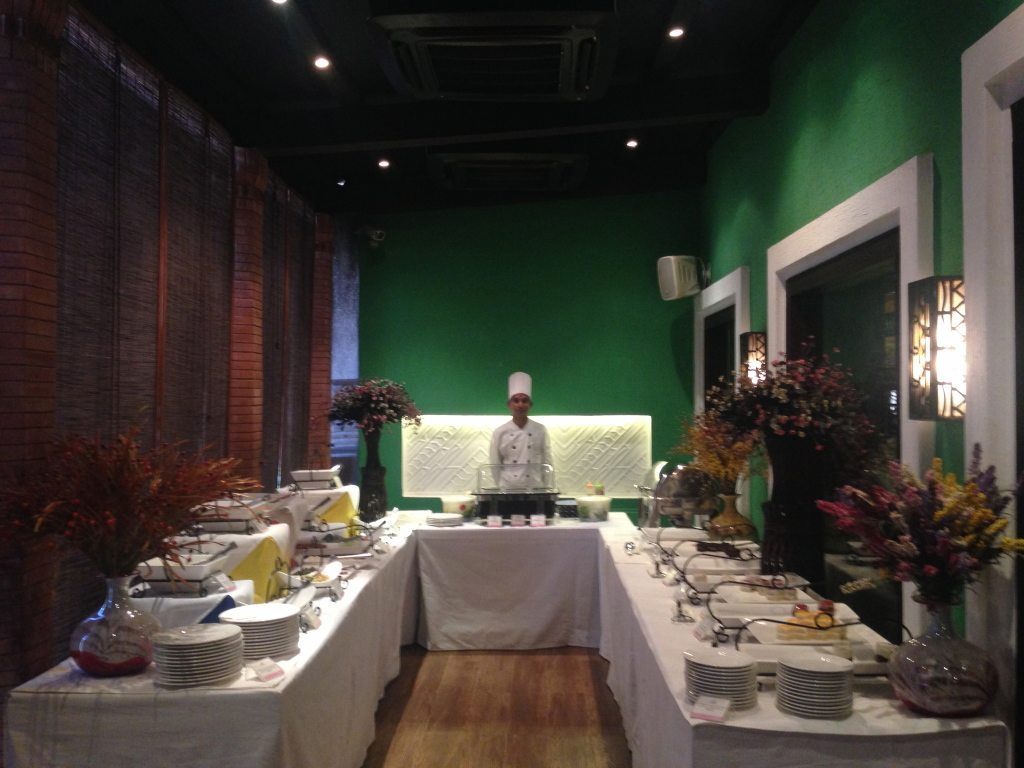 If you are in a mood to taste Eastern cuisine then Veranda Bistro is a perfect place for you. It's an extremely widespread restaurant among the people who love its fancy buffet dishes. They are offering unconventional menu items ranging from Chinese and Thai cuisine. Their buffet is highly recommended to enjoy all sorts of exotic meals.
| | |
| --- | --- |
| Address | Sir Syed Rd, Lahore |
| Price | 850 PKR |
| Contact No. | 04235714765 |
7- Freddys Café

A quality restaurant which is clean and beautifully decorated interiors located MM Alam Road. It is the oldest and still consistent, restaurant in Lahore The arrangement of food items is great and selection of food for high tea is reasonably priced. The idea of healthy and hygienic cuisine experiences makes them distinct from other restaurants in the town. Hi Tea menu includes Continental, Thai, and Afghani cuisines and also deserts.
| | |
| --- | --- |
| Address | MM Alam Road Lahore |
| Price | 845 PKR plus Tax |
| Contact No. | 04235754416 |
Decently Reasonable Hi Tea Spots
Here is the list of some restaurants which are offering Hi tea in reasonable prices, in town.
1- Bundu Khan
Bundu Khan has become a known food chain not only in Lahore but also in Pakistan. They are providing delicate cuisines having exceptional taste and quality for all the food lovers. Their menu includes all traditional food from fresh salads to BBQ to deserts. Their Hi Tea is also famous in Lahore that includes their main course and other beverages.
| | |
| --- | --- |
| Address | Cantt Lahore |
| Price | PKR 640 |
| Contact No. | 04236667319 |
2- Tabaq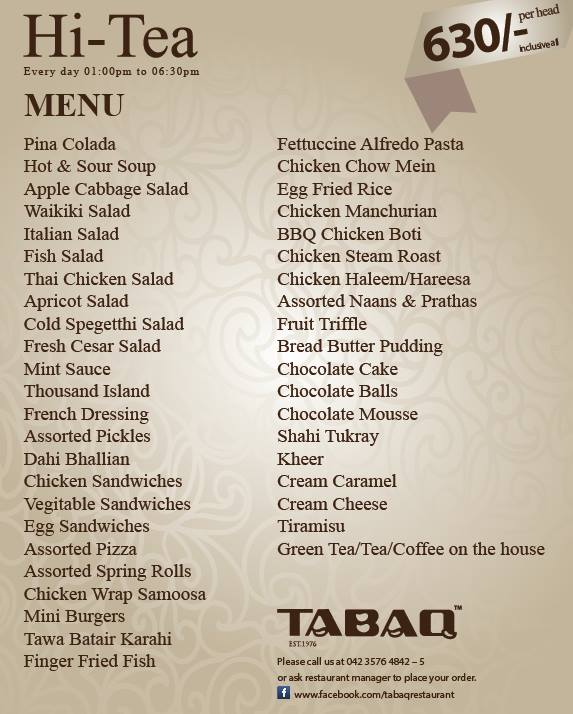 Tabaq restaurant is offering Hi tea with highest number of scrumptious dishes in their menu. Mutton chops in BBQ served with Cheese Naan and their Tawa dishes are amazing specialty of their menu. This place is all about desi food lovers with economical range.
| | |
| --- | --- |
| Address | Mcleod Road Lahore |
| Price | PKR 630 |
| Contact No. | 04236362544 |
3- Xiwang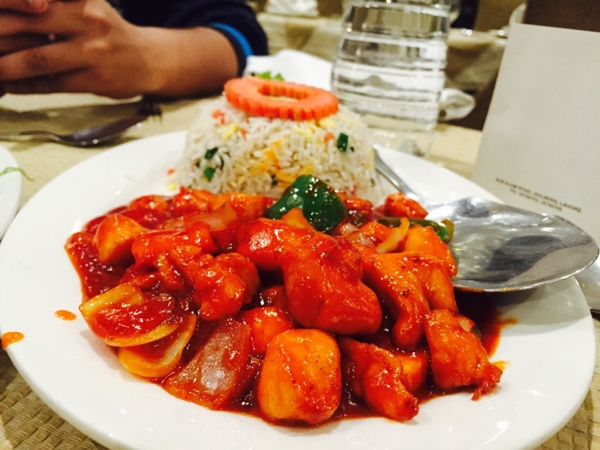 Xiwang restaurant has become one the leading Hi Tea restaurant for Chinese cuisine in Lahore. The restaurant offer wide siting area with cozy environment. The combination of Chinese and Pakistani food along with the smoothies, and hot and icy beverages in their menu makes it so perfect to have their food every time.
| | |
| --- | --- |
| Address | Allama Iqbal Town Lahore |
| Price | PKR 610 |
| Contact No. | 04235430326 and 04237447979 |
4- Salt n Pepper Village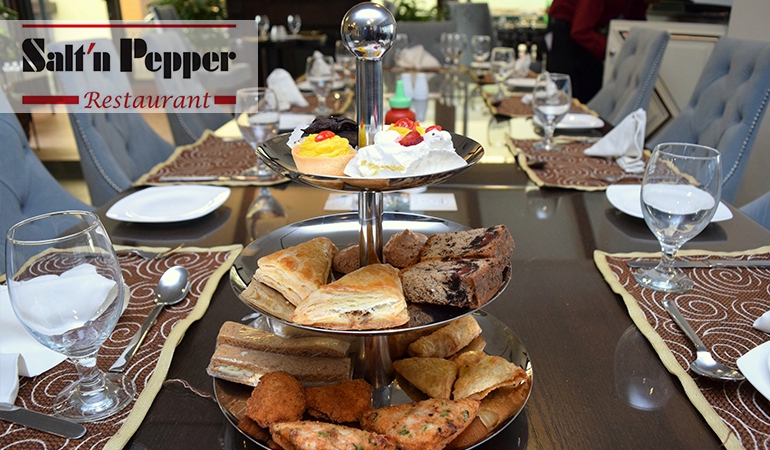 Salt n Pepper Village is a one stop shop for Pakistani cuisine offering scrumptious food items and is one of the ideal restaurants for outdoor eating lovers in Lahore. They are serving amazing buffet recipes in menu deals of very famous and traditional Pakistani cuisine with the blend of continental and Chinese food.
| | |
| --- | --- |
| Address | Liberty Market Lahore |
| Price | 595 PKR |
| Contact No. | 04235875536 |
5- Cafe Costa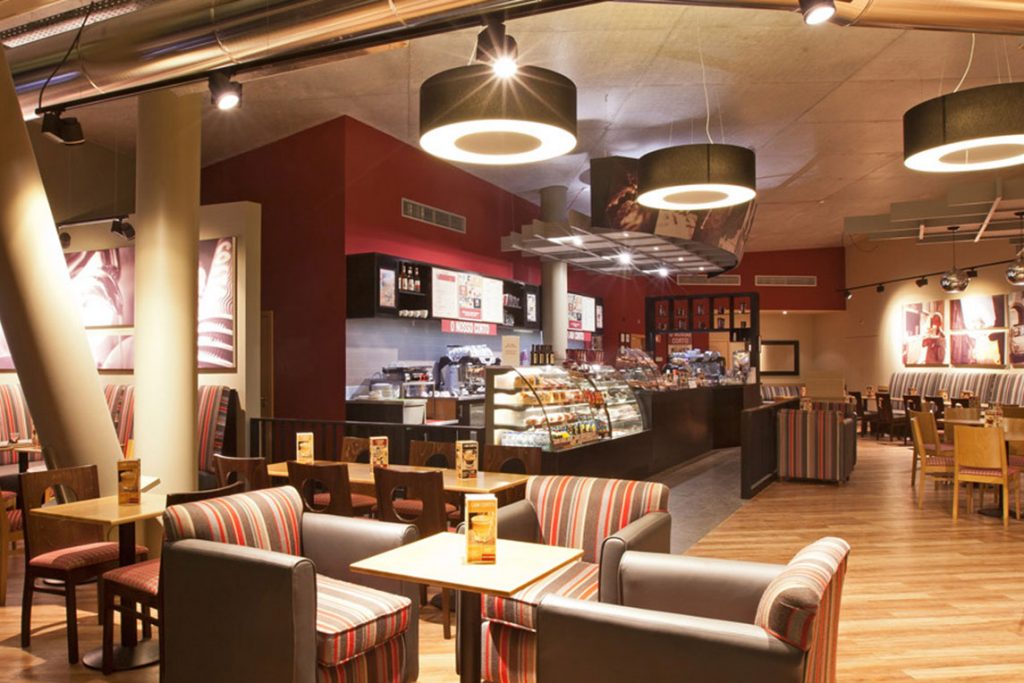 Cafe Costa located at MM Alam Road Lahore is one of the best cafes in Lahore, because of lively and friendly environment. The buffet system is amazing with variety of food and snacks one can sit for long hours with friends and have fun. Their menu has all options of food items from Pastas, Sea food, Thai Food, Steaks etc.
| | |
| --- | --- |
| Address | Kasoori Road Lahore |
| Price | PKR 500 |
| Contact No. | 04235772626 and 0320-4440112-13 |
Download Locally Lahore Android & iPhone App. Join locally Lahore on G+ and Instagram, Facebook to get in touch with the latest information and events of Lahore. Find out more information of Locally Lahore App on www.locallylahore.com.