The Walled City Of Lahore has indulged a lot of secrets and heritage monuments in itself. As the generation moves forward it forgets its culture, heritage, values, and monuments. It is not the case of Pakistan but almost around all the world.
Today we will try to enlighten one of the forgotten cultural symbols of Pakistan- The Decorated Rickshaws.
What Is Culture To Us?
I think this is the most difficult question to ask from the generation of nowadays as the people who have thrown their books in dusty corners. The people who feel ashamed in following their traditions. The people who are afraid to be called "Desi" in this so-called modern world.
If you think I'm wrong then question yourselves. Don't you feel ashamed of speaking Punjabi or listening to your kids speaking Punjabi? Don't you feel ashamed of eating and wearing desi at an Elite function?
If yes, then I think we are at the urge of a pathetic culture losing destruction.
Value Your Root Heritage:
We cannot dissociate the culture from our roots and blood. No matter how much we try, we are still bound to our traditions.
Thanks to some of the traditions like our decorated rickshaws that are still alive and give us the essence of our actual traditions.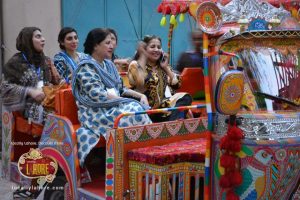 Explore Walled City of Lahore: ( Lahore Lahore Ay)
You can explore Walled City of Lahore on some antique, chic and exotic looking rickshaws that are highly decorated and revitalize the memories of actual Pakistani Tradition.
Whenever you visit Lahore you see Rickshaws roaming everywhere decorated beautifully with hangings and paintings. Some rickshaws have handcrafting done masterly along with the bells downside.
Many Rickshaws have Tilla or Sheesha Work done. They are also done with some monuments painted on them. It is the best thing to revive the old memories.
It is rightly said that "Lahore Lahore Ay". The things you see in Lahore cannot be seen anywhere.
The beauty of Lahore becomes double when you see these masterpieces of Art hovering around. The tradition of Rickshaws goes far back to history and is still evident.
Tourist Rickshaws:
Rickshaw culture has become so much hype that now these decorative rickshaws are used for tourism purpose in the Walled City Of Lahore. Many people gave fake excuses that they are not eco-friendly so they should be eliminated.
Keeping that thing in mind some Culture Revivers have introduced eco-friendly rickshaws. They are smoke and noise-free and decorated in beautiful patterns.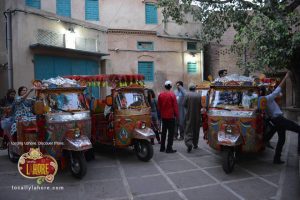 Transportation And Fun:
They are the means of transportation and fun as well. These decorated rickshaws glow at night due to the sheesha work and glowy stickers. It attracts a large number of tourists and inhabitants of Lahore. They roam all around day and night giving us a thought that our culture is still intact.
When we hear loud music on these loud vibrant rickshaws it takes us back to the historical days of Pakistan.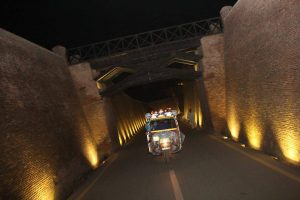 Conclusion:
The Walled City Of Lahore has strived hard to preserve the culture of Pakistan. It attracts a number of Tourists which can be a source of income too. We need to promote such culture and should feel proud about this.