Guide about the Lahore Best Shopping Areas. When it comes to shopping, Lahore is considered as people's first choice because of its variety of shopping malls and bazaars for all kind of general, special event or wedding shopping. Mostly Ladies wants to go Liberty, Anarkali bazaar, Ichra Bazaar and Rung Mahal bazaar for the shopping of special events and weddings.
Some of the Best Shopping Areas of Lahore
Anarkali Bazaar – one of the oldest bazars exists in Lahore
Anarkali bazaar is an important market in Lahore. It is one of the oldest surviving markets in South Asia, dating back at least 200 years. The bazaar is in front of Lahore Museum and on the side of Punjab University Old Campus, very near to gate of Meo Hospital Lahore. Anarkali is the oldest bazaar of South Asia and is named after the famous courtesan of Akbar's court called Anarkali. There is the grave of Emperor Qutbuddin Aibak, who died falling off his horse playing polo. And Mahmud Ghaznavi's General Malik Ayyaz buried in the commercial area of Rang Mahal.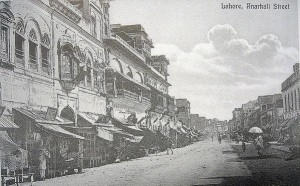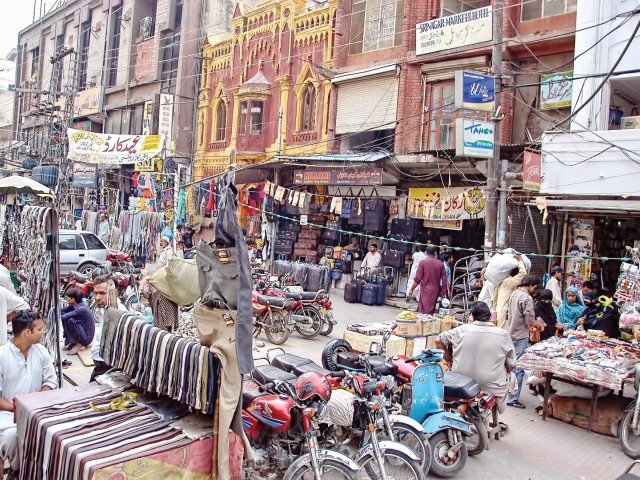 Anarkali Bazar is divided into two portions, the Old Anarkali Bazar and the New Anarkali Bazar. The Old Anarkali Bazar is noted for traditional food items while the New Anarkali Bazar is noted for its traditional handicraft and embroidery cloths.
The alleys and lanes of this bazaar are full of exciting wears, especially traditional crafts like leather wear, embroidered garments glass bangles, beaten gold and silver jewelry, creations in silk. Anarkali is also famous for Bridal wear shops. Here you can find Bridal wears with reasonable prices. If you want to do wedding shopping then Anarkali is your place. That area of Anarkali is called Bano Bazar.
Ichhra Bazaar – Economical and  Approachable for Many
Ichhra is a commercial and residential area in Lahore. The history also says that it was a nickname of a female belongs from Kamboja family who came from "Mesopotamia". They worshipped a dave named "Ishara" and her tomb's name was Ichra. You can find it in old Ichra market. Ichhra is located on Ferozpur Road between Gulberg, Mozang and the Old City.
Being a very old locality, some very old buildings can be seen in Ichhra. It is noted for its Ichhra Bazar, among the most economical markets of Lahore. This market is known for its traditional and cultural dresses and other handicrafts supplied from all over Punjab, as well as its furniture selection. Lahori people are famous and like to eat tasty, spicy, and, delicious foods. You will enjoy with Samosas, Pakoray, Dehi Bhallay, Karahi Gosht, and Fried Fish in this bazaar and also outside the bazaar.
Liberty Market – Once considered as best shopping area for new localities of Lahore
Liberty Market is one of the best shopping areas in Lahore. You'll find best quality of jewelry, fabrics, electronics and much more. One of the leading Jewelry stores, "Mahfooz Jewellers" has three branches in the main liberty market.
At first Liberty Market appears to consist only of the large stores in a huge lope, however be aware that there is an entire backside to Liberty Market where shopping gets a lot more fun. You can access the backside of the market from any number of points– at first glance the backside can look like the backside of a western market, i.e. service doors, garbage pick-up points, etc. However, there are separate shops back here that sell everything from jewelry to lace to chappals.
At Liberty there is a supermarket, Al Fatah. Al Fatah is located across the road from most of Liberty Market, in the second alley. Al Fatah stocks every Pakistani and Western brand of grocery items that you could ever dream of, Specially for those who are staying in Lahore for a while, it is a must visit.
Fortress Stadium – the charm of 80's for high-end shopping and Eat-out
The Fortress Stadium is a popular open space consisting of shopping centers, restaurants, cafes and entertainment areas and a sports stadium. It is located Lahore Cantt. Fortress Stadium is also one of the most busy commercial areas of the city. The Chairman and Management of Fortress Stadium are serving and retired army officers. Brigadier Sikandar Khan was the Chairman Fortress Stadium (Lahore) from 2012 to 2013.
This place is ideal for women and kids wear. There are also nice video centers where you can buy DVDs at a reasonable price. One can visit this place for shopping as well as for nice dining experience as a lot of fine dining restaurants are located here. If you are with kids, then Joyland is there for entertainment. Prices are reasonable. Most popular attractions of Fortress include:
Feelings, a music shop
Hyperstar, a superstore
Different High-end Brand Shops
Bundu Khan Restaurant
Hall Road Market – the place for Electronics and Home Appliances buying
Hall road Lahore is Asia's largest market of electronics, Computers, Magnets, Electronic Components, CCTV Wire & Cables, Mobiles & accessories, DVDs, etc. It is full of retailers, and wholesalers, and is an extremely busy area due to cheap and readily available electronic imports and pirated DVDs.
Hall Road is a commercial road near the historic Mall Road in Lahore. Like the Mall Road, it is surrounded by buildings built by the British before Pakistan's independence in 1947. The name of the road comes from the fact that the British had built 4 huge halls along the road, which catered to meetings, exhibitions, etc. Today those halls have been converted into commercial buildings and is the Hub of Lahore's electronics, TVs, Mobiles, Computers etc.
Hall Road is the largest electronics market of province of Punjab. It has shops for every electronics item from a resistor & silicon chip to complete product. Most of the products are imported from China. Some products e.g. UPS, Stabilizers, dish-antenna and many type electronic kits are designed and assembled here. The products produced here are cheap but are of average or low quality. Many sellers of local products have average customer support and practically there is no warrantee of local made products. The good thing is most of them give option for repairing services on cost to cost basis or some times free.
Shahlmi Bazaar – one of the Asia's biggest commercial wholesale market
One of Lahore's biggest commercial markets, "Shah Alam Market" or Shalmi as locals call it, exists near the site of the gate. This is one of the 12 Doors of Lahore. Its location can be traced at the sidelines of Shah Alami Market, Lahore.
Shalmi market is very near to Mayo Chowk Lahore, Mayo Chowk is next signal to Mayo Hospital gate. After arriving at Mayo Chowk as road will be crossed next one way traffic road leads towards entrance of Shalmi Market. Place is very populated and have a small road.
Moon Market, Iqbal Town
The Moon Market is a large, popular market area situated in the center of Allama Iqbal Town in Lahore. There are hundreds of shops, food stalls, restaurants, recreational spaces, grocery and entertainment stores. Many people visit this market daily as prices are very reasonable there.
Urdu Bazaar – The House of Publishers and Books
Urdu Bazar is one of the busiest market of Lahore. It is situated near the Anarkali Bazaar. This bazaar is known for bookselling, publishing, printing paper and books related material. From School, colleges course books to world classic literature books are available here.
You can purchase old and new books on the topic of history,music,geography and any topic which you have required for studying books and this market is also deal in wholesale of all kinds of books that's why it is famous bazaar in Lahore.
M.M.Alam Road – Now the High-end Fashion Street of Pakistan
M. M. Alam road is a major road in Lahore, named in honor of flying ace of Pakistan Air Force, Air Commodore Muhammad Mahmood Alam. It runs from Main Market to Firdous Market in Gulberg.
Shopping Malls at M.M.Alam Road
Vogue Towers with a cineplex and a big food court
Ali tower with fashion studios, boutiques and McDonald's
Park plaza hotel and Mall
Pace Mall with a good restaurant karachi BBQ, indoor kids theme park and a Grocery store
Regency plaza
Xinhua Mall
Panorama Mall – Considered to be the best market for gents clothing
Panorama Shopping Center is located on the Mall Road, Lahore. It offers variety of clothes for men to choose from on two basement floor. Panorama Shopping Center is also having number of shops on ground floor having beautiful yellow gold jewelry for women's. Many people daily visit Panorama Shopping Center for a great shopping experience at low price.
You can discover more amusement parks and many more places of Lahore city on Locally Lahore App. Locally Lahore is a must have App, which allows you to explore Lahore and it covers up your all point of interest. It gives you information about latest events and happenings in Lahore.
Download Locally Lahore 
Android
 & 
iPhone
 App. Join locally lahore on 
G+
 and 
Facebook
 to get in touch with the latest information and events of Lahore.