A few days back, pictures of scenic cricket ground located in the Nagar Valley were trending on social media. The cricket stadium is in the Nagar Valley's Pissan village, Gilgit-Baltistan and it made the cricket-loving nation go crazy. The sight of the ground is surrounded by a sheer rocky cliff on its one side and on the end there is snow-capped Rakaposhi, "The Mother of MIst".
As soon as the pictures were spread over the social media, people began to praise the beauty of this stadium. People desired of constructing an International cricket stadium over there.
Now, watching the popularity and demand of people for building a stadium at that majestically beautiful place, Government of Gilgit-Baltistan has decided to construct a cricket stadium in Pissan village of Nagar Valley.
For this purpose, a meeting took place between CM Gilgit-Baltistan Mr Khalid Khurshid Khan and PCB Chairman Mr Ehsaan Maani. After this meeting, Chief Minister GB announced to build a stadium in this beautiful place.
On his Twitter account, the CM shared the pictures of the meeting with PCB Chairman and also told some cons of Pissan cricket stadium.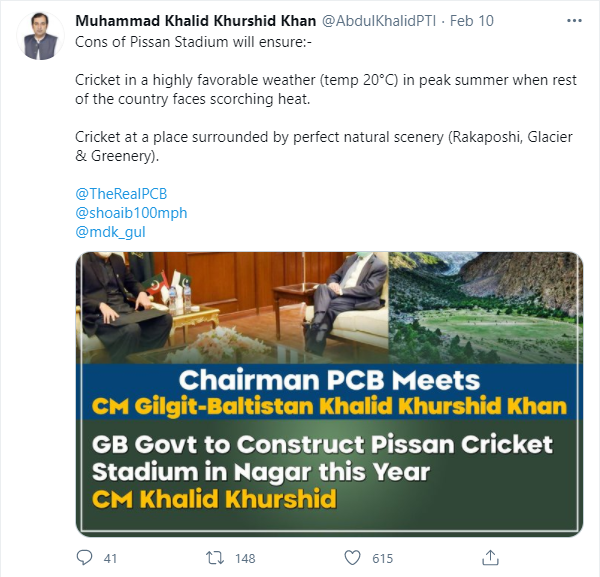 This whole scene created after the scenic and beautiful pictures of Gwadar cricket stadium went viral. After this ICC shared the pictures of Gwadar stadium on their official Twitter account. ICC challenged to show more scenic cricket ground in the world.
Following the challenge, Pakistani people found Pissan stadium located near the basecamp of Rakaposhi and started to share its pictures. Moreover, the stars like Umar Gul and Shoaib Akhtar admired the beauty of this ground. Now, the cricket fans are really desperate to see a cricket stadium in the Nagar Valley of Gilgit-Baltistan.