Lahore Orange Line Train is a rapid transport system for the citizens of Lahore. It is the first metro train in Pakistan with a total length of 27.1 kilometres. While 25.4 kilometres of the line is elevated, whereas 1.72 kilometre is underground.
Inauguration of Orange Line Train
This project is financed by the Government of Pakistan and the Government of China. Construction on this project started in 2015 and it completed in October 2020 after many hurdles and complications. The inauguration was carried out on 25th October by the Chief Minister of Punjab, Mr Usman Buzdar.
Read More: First electric train to run in Pakistan soon.
While speaking at the launching ceremony, Buzdar said that the project is part of CPEC. Further, he said that sheer efforts have made to complete this project. He further said that the relations between Pakistan and China are very good and will continue to extend cooperation in other sectors.
Lahore's Orange Line Metro Train is having 26 stations and handles over 250,000 passengers daily. This Metro Line is one of the major parts of China Pakistan Economic Corridor (CPEC).
This article gives information about the Lahore Orange Line Metro Train Stations for the comfort of our users. But before digging into the information of stations, get to know the fare of Orange Line Train and some other quick facts. 
Some Quick Facts to Know
A total of 250,000 passengers can travel daily in the orange line train.
The total number of trains is 27 and there are five bogies on each train.
There are separate seats for children, women and old age people.
There are special seats for disable people.
By using the orange line train, people can save their 1 hour.
Anarkali station is the most beautiful and largest station of Lahore orange line metro train.
Anarkali and Central Station are underground while the other 24 stations are elevated.
In case of any emergency, there is a red button in every bogie that can be used to contact the control room.
Fare of Orange Metro Train
According to the notification issued by Punjab Government's Transport Department, the one-way fare for the Lahore Orange Line Train service is Rs. 40 per passenger.
Ticket Purchasing Ways
There are two way to purchase a ticket for the orange line metro train. One way is to buy the ticket with the old traditional method to go and wait in queue for your turn and then purchase the ticket. The other method is using the automatic machine.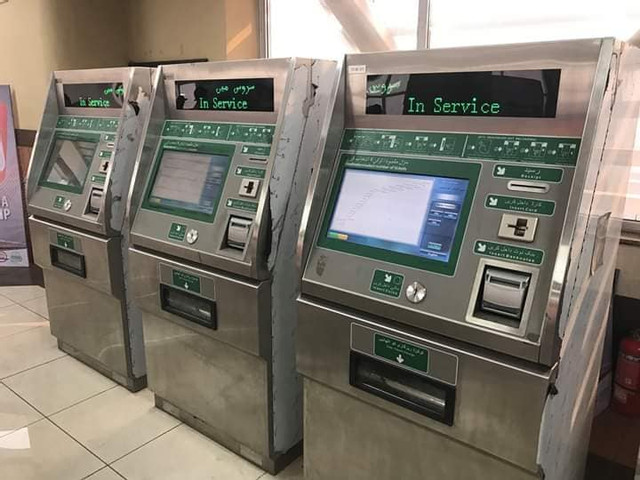 How to use the Ticket Machine
The automatic ticket machine is a wonderful technology that saves huge time of passengers. From this machine, you can purchase a ticket/token by inserting currency notes. Here are a few instructions that one should keep in mind while using this automated machine.
From this automated machine, you can purchase the token by inserting your metro train card or by inserting currency notes.
The currency notes should be clean straight. Folded currency notes are rejected by the machine.
Only insert the currency notes of Rs 10, 20, 50 and 100 to purchase or recharge your card. The machine rejects the notes of a greater value than 100.
The travel time from Ali Town to Dera Gujjran is 45 minutes. Your token will expire after 90 minutes. Complete your journey within 90 minutes or you will have to purchase a new token to get out of the Metro Station.
Instructions for Orange Line Train Card Holders
Passengers who have to travel daily can purchase their metro train card from the ticket reception. The price of the card is 130 rupees.
If you want to recharge your card, you can insert your card into the machine and recharge it according to your desired amount. But remember, the currency notes should not be of greater value than Rs 100.
Passenger can purchase up to 6 tickets/token at one time by inserting their orange line card.
If you are alone and have a metro train card, then you can either purchase the token from the machine or just scan the card and enjoy the journey.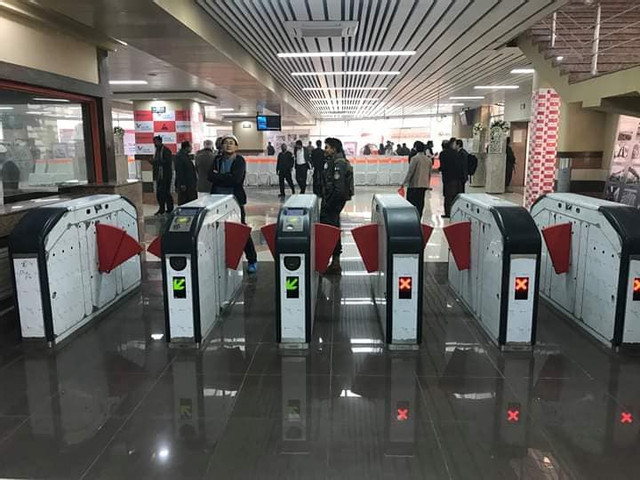 Now, here is the list of stations on the way to the Orange Line Metro Train.
1. Ali Town Station
Ali Town station is the starting point of the Orange Metro Line Train in Lahore. It is located on Raiwand Road near PEEF building. The next orange line train stop is Thokar Niaz Baig which is at a distance of 1 kilometre.
2. Thokar Niaz Baig Station
Thokar Niaz Baig is one of the busiest places in Lahore. It is the main entrance point of Lahore from the M-2 Motorway. Here is the 2nd stop of the orange line train. The next orange line train stop is Canal View stop and it is 1.1 kilometres ahead.
3. Canal View Station
Canal View Housing Society is located at Canal road and its one corner extends to Multan road where you will find Canal View orange train station. After this stop, Hanjarwal stop comes and it is also 1.1 kilometres far from Canal View metro stop.
4. Hanjarwal Station
Hanjarwal orange metro stop is based in a populous area Hanjarwal. The next stop is Wahdat road which is another place with great hustle and bustle.
5. Wahdat Road Station
Wahdat Road connects Ferozepur Road with Multan Road or National Highway (N-5). People who want to go Mansoorah or visit Nawaz Sharif Hospital can use this train station. The next stop is Awan Town and is about 1 kilometres ahead of Wahdat Road stop.
6. Awan Town Station
Awan Town is a residential town in Lahore and on its other side, there is Allama Iqbal town. The next metro train stop is Sabzazar at the distance of 900 metres.
7. Sabzazar Station
Sabzazar orange line stop is better known as Kharak Nala Stop. The next metro station is Shahnoor metro stop and is almost 1 km from Sabzazar stop.
8. Shahnoor Station
Shahnoor orange metro stop is also known as Khatam-e-Nabuwat orange line metro station. Ahead of Shahnoor station, there is Salahudin Road metro stop.
9. Salahudin Road Station
Salahudin road metro train station is located on main boulevard Sabzazar. This station is also used by the passengers of main boulevard Allama Iqbal town. The next station from Salahudin Road is Bund road.
10. Bund Road Station
Bund road is the 2nd most busiest metro train station on Multan road. It has several intercity bus terminal including the city terminal that is why this road is busy all the time.
11. Samanabad Station
Samanabad metro station is the next on the list of metro stations. The next metro train stop from Samanabad is Gulshan-e-Ravi stop which is just 400 metres away from Samanabad stop.
12. Gulshan-e-Ravi Station
In the list of metro stations, Gulshan-e-Ravi comes at 12th number. Ahead of Gulshan-e-Ravi staion, there comes the Chauburji stop.
13. Chauburgi Station
After 1.3 kilometres from Gulshan-e-Ravi stop, Chauburji metro station arrives. Chauburji is a historical monument that was built in 1646 during the rule of Shah Jahan. The next stop of the orange line after Chauburji is Lake Road.
14. Lake Road Station
Anarkali metro train stop or lake road stop is the most beautiful train station on the entire orange line train track. The architecture of this building depicts the Mughal era buildings. The next stop of the orange line train is GPO.
15. GPO Station
General Post Office (GPO) metro train stop is also known as orange line central station. It is also located at the historical GPO building. The next stop after GPO is the famous Lakshmi Chowk stop which is 1.4 kilometres from the GPO metro station.
16. Lakshmi Chowk Station
Lakshmi chowk is famous for its desi Lahori foods. It is named after the historical Lakshmi building that stands nearby. It is one of the most famous and busiest chowks of Lahore. The next stop after Lakshmi Chowk is the Railway Station i.e. just 1 km far from Lakshmi chowk.
17. Railway Station
After Lakshmi Chowk, the metro train runs towards the Lahore Railway Station stop. The magnificent and beautiful building of Lahore Railway Station was built in the British Empire. Lahore Railway Station is the largest railway station in Pakistan.
18. Sultanpura Station
The next stop of the orange line train after the railway station is Sultanpura stop and it is almost 2 kilometres away from the railway stop.
19. University of Engineering and Technology Station
UET orange line train stop is located at Grand Trunk road. This metro train stop is very useful for the university students that help them to travel with ease and comfort. After UET station, there comes the Baghbanpura station which is another old place in Lahore.
20. Baghbanpura Station
Baghbanpura stop is almost 950 metres ahead of UET station. The next metro station after Baghbanpura is the Shalamar Garden stop.
21. Shalamar Garden
Shalamar Garden is the next in the stations list of orange line metro train. The station of orange line train is in front of the Shalamar Garden. Shalamar Garden is the Mughal's complex in Lahore and it date back to Mughal rule.
22. Pakistan Mint Station
After the Shalamar Garden Station, the orange line hits the Pakistan Mint stop. Pakistan Mint is the coin press industry located in Shalamar town. This orange train station is in front of the Pakistan Mint factory. The next orange line station is Mahmood Booti which is 1.3 kilometres far from Pakistan Mint.
23. Mahmood Booti Station
Mahmood Booti orange line station serves the residents of Mahmood Booti, Daroghe Wala, and Shadi Pura. The next stop after Mehmood Booti comes after 1.7 kilometres and it is Salamat Pura metro station.
24. Salamat Pura Station
Salamat Pura station comes after the Mehmood Booti stop. Areas like Salamat Pura, Zaitoon Colony and Fatehgarh can access this metro station easily.
25. Islam Park Station
The Islam Park orange line station is the 2nd last station of metro train route. It is just 950 metres from Salamat Pura station.
26. Dera Gujran Station
The final stop of the Lahore orange line metro train is Dera Gujran. Here the 27.1 kilometres long track comes to an end. It is almost 800 metres from Islam Park stop and is located near the Lahore Ring Road's Quaid-e-Azam Interchange.
Security Measures in Orange Line Train
For security purposes, there are emergency gates in the Lahore Orange Line Metro Train. In case of fire, fire extinguishers are installed and instructions to use it are mentioned clearly.
Bottom Line
At last, the Lahore Orange Line Metro Train project is a marvellous gift to the people of Lahore. It is extremely efficient and time saving to travel from one part of Lahore to another. Moreover, this project took a high amount of money that came from the pockets of the Pakistani Nation. This project is not an asset of any political government but of the Pakistani Nation. So, it is our moral and national duty to take care of this project and don't indulge ourselves in political matters.