The head of NCOC, Asad Umar has requested the people not to delay their second dose of coronavirus vaccine. He urges to take the second dose of coronavirus on time. 
On Saturday, the NCOC chairman shared the news that he's done with the second dose of coronavirus vaccine via his Twitter account. He also admired that over 80% of Pakistanis are getting their coronavirus second dose on time. However, a drop in the number of people coming for 2nd dose before the Eid-ul-Fitr.
Read More: The Government of Punjab is planning to vaccinate 300,000 people on a daily basis.
He further said that the registration of people age 30+ will start from 16 May. He explained that the increase in the supplies of vaccination will result to open windows for more people who are eligible for vaccination.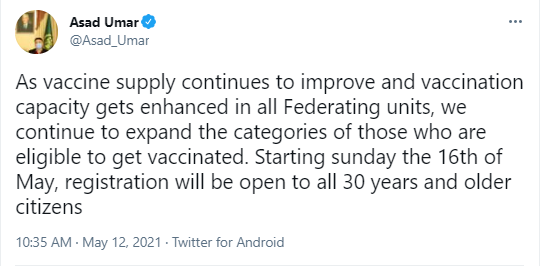 The registration for COVID-19 vaccination for the 40+ age group is ongoing and walk-in vaccination has also started. People can visit any vaccination centre according to their to ease to get the vaccination dose.
Currently, Pakistan is facing the 3rd wave of coronavirus and due to lockdown, the ratio of COVID-19 cases has declined. It is our request to wear a mask and follow the Government given SOPs to take care of yourself and your loved ones.