History of Jani Beg Tomb
Jani Beg Tomb is near Shalamar Gardens. The tomb had been constructed in the reign of Mughal Emperor Muhammad Shah. The dome has beautiful porcelain tiles of blue and yellow color. The pyramidal dome sits a top a low height neck. It is decorated with pottery work in beautiful floral patterns similar to those seen on the tomb of Sharf-un-Nisa Begum. 
Mirza Jani Beg was a member of the Tarkhan Dynasty. His tomb is in Lahore and he died in 1778.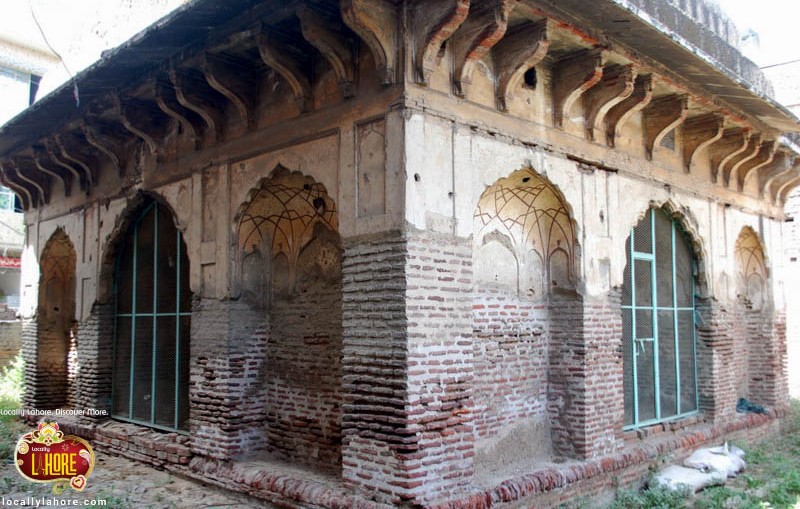 Architecture
The tomb originally stood in a garden with a beautiful gateway. The gateway had been dismantled in the 1800s and there is no trace of them exists now. Today some houses on a small plot of land bounded by a wall have to hide the remaining structure. The door to the enclosure is locked.
The building is provided with an arched entrance with an arcaded niche on each side. The corridors are supported by buttresses of brick-work and give the edifice a graceful appearance. The buttresses are painted in yellow, red, and green with simple geometrical patterns. The arched entrances have been closed up with the metallic fence with a door provided through one of the fenced in arches.
The floor is covered with years of accumulated dust and debris and it is impossible to see any of the original floorings. The inside walls are some of the best preserved of the Mughal-era tombs in Lahore. One can see panels of beautiful floral frescoes on the upper portions of the walls and the corner niches. Even the domed ceiling retains good portions of its floral frescoes laid out elegantly in geometrical patterns. There are three graves inside it. Nobody knows which grave belongs to Jani Khan.
You can discover more historical and interesting places of Lahore city on Locally Lahore. Locally Lahore is a must have App. It will help you to explore Lahore. Iit covers up all point of interest. It gives you information about latest events and happenings in Lahore.
Find out more information of Locally Lahore App on www.locallylahore.com