Greater Iqbal Park was first named as Manto Park present in outskirts of walled city Lahore, since 1930's. Renowned as the home of Minar-e-Pakistan and primarily this Park has historical importance because of 1940's resolution of Pakistan. This 125-acre park includes an artificial lake which spreads over four acres which includes an 800-feet-long musical fountain. Other attractions included: a soft rail, library, an open-air gym and a food court. The tomb of Hafeez Jalandhari is also located nearby this park.
The Greater Iqbal Park is a project by the Lahore Development Authority (LDA), those decided to renovate it with advance entertaining facilities for the citizens, well decorated gardens and nice addition tracks.  The park was inaugurated on November 9, 2016 to turn the area between Iqbal Park and Badshahi Mosque into a theme park that is open for public to visit.
For the first time, the newly built Greater Iqbal Park also hosted the Chrysanthemum Flowers Show. The venue of the flower show has been shifted from Jilani Park for the first time, just to make the public to visit that park and explore their own city.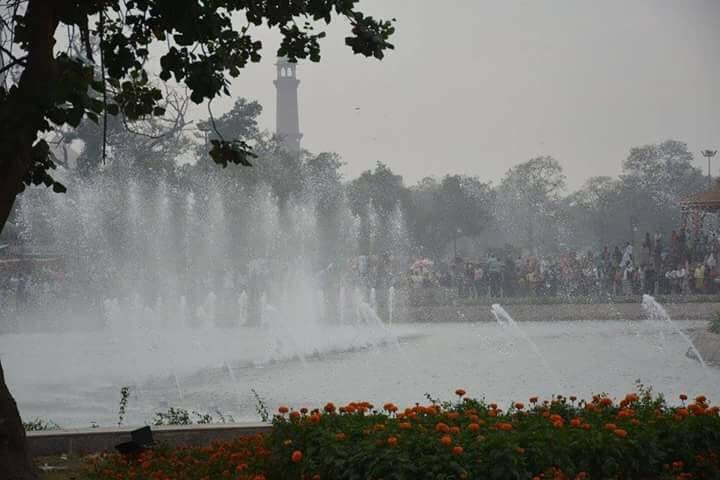 No doubt, Greater Iqbal Park serves as a new place for the citizens to visit on holidays and hold picnics and enjoy the waterfalls, fountains and splendid sights. Visitors can laze on rolling lawns and take in the panoramic view of Minar-e-Pakistan, the royal Lahore Fort, iconic Azadi Interchange and the historic Badshahi Mosque altogether.
People really appreciate the addition of this new amusement park. Many visitors come to the park to take pictures especially of the beautiful fountains, those water dancing with colorful lights and creates remarkably dramatic atmosphere over there.
---
You can discover more historical and interesting places of Lahore city on Locally Lahore. Locally Lahore is a must have App, which allows you to explore Lahore and it covers up all point of interest. It gives you information about latest events and happenings in Lahore.
Download Locally Lahore Android & iPhone App. Join locally Lahore on G+ and Facebook to get in touch with the latest information and events of Lahore.
Find out more information of Locally Lahore App on www.locallylahore.com