Some people are born legends and we are going to discuss here The King of Polo, Bulbul Jan. Bulbul is a Pakistani born Polo player who ruled the Polo in Pakistan for more than two decades.
Bulbul Jan
Jan was born in Pakistan's one of the most beautiful areas in Gilgit in 1956. His father was a doctor by occupation and Bulbul has five brothers and one sister. Bulbul's childhood dream was to become an army officer but his fate has decided something else for him.
Early Days of Bulbul Jan
In his early days, Bulbul started his sports career in football and hockey. He was a very good player in football but due to a foot injury, he has to resign from his football team. Later he joined freestyle polo and got to know as the King of Polo.
Read More: Get to know about the Golf Course in the city of gardens, Lahore.
Jan started his career of freestyle Polo in 1981. From 1981 to 1984, he played several matches and won his team against different teams.From the platform of NAPWD, he displayed his charismatic capabilities of playing Polo to the world.
Career in Northern Light Infantry
Watching his brilliant performances in freestyle Polo, the force commandant of Northern Light Infantry (NLI) requested Bulbul to join the NLI Polo team. He joined the NLI team in 1984 and served it till 2004.
Jan remained the captain of the team for 20 years and during his captaincy tenure, the world witnessed that several records were made and broken. In a final match against Chitral, he made a record of four regular goals.
Achievements of the King of Polo
After joining the Northern Light Infantry team as a captain, Bulbul took NLI's Polo team to the new horizons of success that one's eye can't imagine. Some of his achievements are:
Bulbul Jan remained the captain of the NLI Polo team for two decades which is a long period.
He was the most successful captain in the long history of freestyle Polo sports.
Under Bulbul's captaincy, the NLI's team remained unbeaten for 17 years in the Jashn-e-Baharan Polo Festival in Gilgit.
Set the record of 24 goals against the Police team in the Anti-narcotics Polo Cup.
He made a record of 3 goals via direct hit shorts in Shandur Polo Festival.
Got the award of National Youth Award in 2010.
At the 1998's Shandur Polo Festival, a member of the German Polo Association awarded Bulbul Jan with the 'Best Polo Player' award.
For his services and achievements, Bulbul was awarded with the Sitara-i-Imtiaz in 2013.
Polo lovers had a great affection for Bulbul Jan and this lead him to have the award title of "King of Polo".
International Fame and Tours of Bulbul Jan
Bulbul got fame around the world. It was his fame that he was awarded with the title of "King of Polo". His fame attracted the international media to make documentaries on Bulbul and his career. BBC, CNN, Al-Jazeera, VOA, Khaleej Times and many other renown media hubs took interviews with him. Several documentaries were made on Bulbul's life and the freestyle Polo.
Tourist groups that tour the northern areas of Pakistan made documnetaries on Jan's carreer. It is his popularity that made him respresent Gilgit Baltistan at international level. In 1998, Khaleej Times media group invited Bulbul Jan to Dubai.
In 2002 and 2003, the President of Pakistan General Pervaiz Musharraf invited Bulbul to play a freestyle Polo match in Lahore.
Black Magic – Bulbul Jan's Companion
Black Magic was the name of Bulbul Jan's horse Truc. Truc was his best companion without whom Jan's journey won't complete. Truc played a vital role in Jan's career. He was not only a horse but a friend for 17 years. His speed and strength mixed with the magic of Bulbul's experience became a deadliest combination that destroyed the opponent team.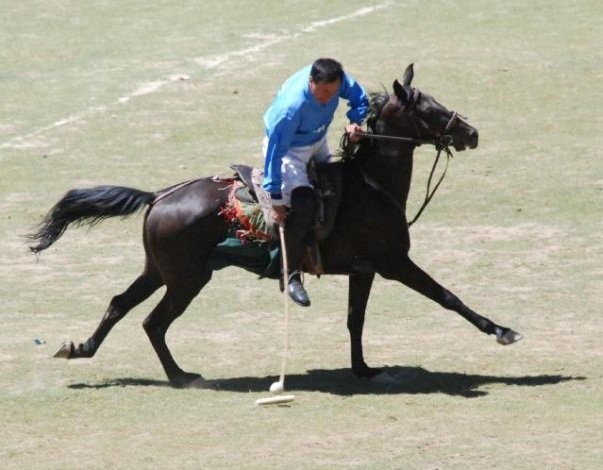 Picture Gallery of The King of Polo