The month of Ramadan has just started, so with repetitive routine of preparing Iftar and Sehri with full of its hustle & bustle in the houses and on the roads every single day. Though there's no place like home for Iftar but naturally, we all search for the perfect 'Iftar' ; preferably one that doesn't involve slaving in the kitchen for hours in this scorching heat.
It's always a good idea to give the home chefs well-deserved rest,  every once in a while, especially when they're are fasting in blazing hot days. While the restaurant scene in Lahore is currently on top of its game. Here's a list of 13 top eateries of the city you should definitely visit to calm your taste buds with best Lahori and continental flavors after 16 hours of fasting.
These Iftar offerings are defiantly not much but all gain, most are reasonably priced but some may sound a bit expensive but still they all save your day.
1- Arcadian Café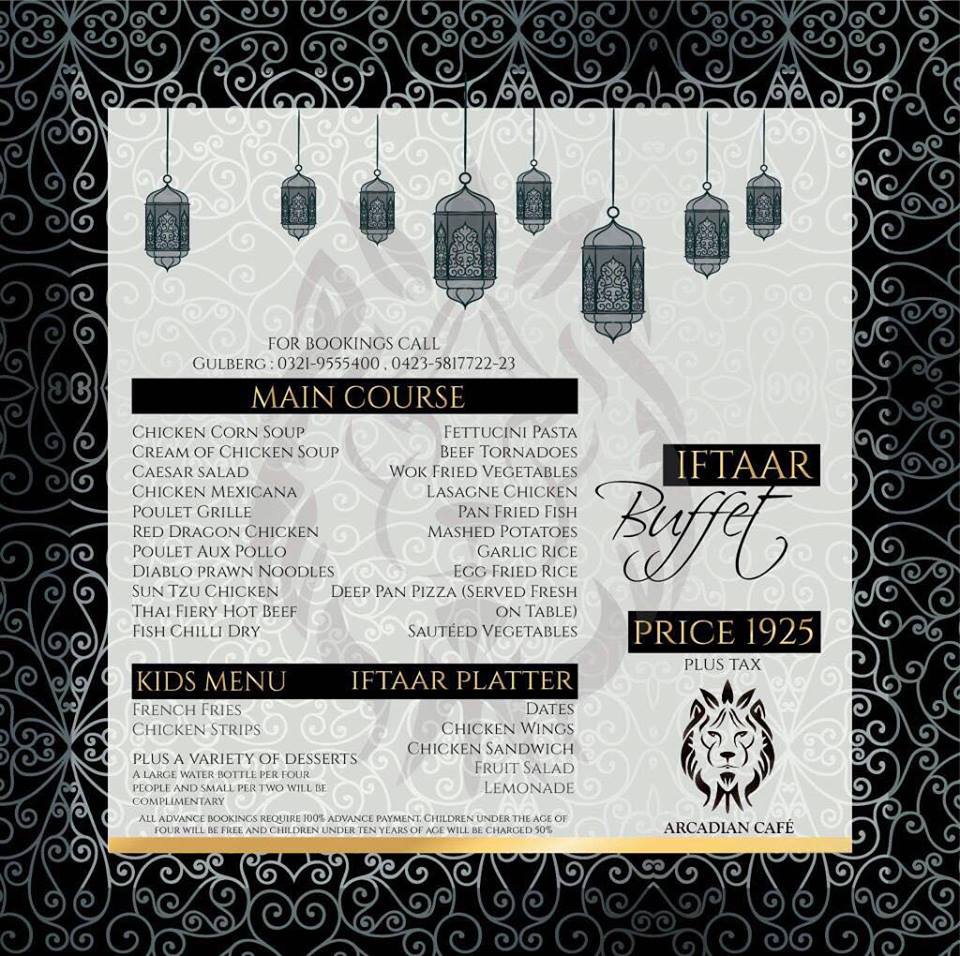 The one of the most exotic eateries in Lahore, mainly located in Gulberg and now have branches in Emporium Mall and Packages Mall. It offers a detailed main course dishes in its iftar buffet, including the unique style of updating menu every week. There you will be served an Iftaar Platter comprising mouth- watering dishes sandwich, fruit salad and lemonade. With an assorted dessert section included in the buffet, the iftar deal costs Rs1,925+tax.
For Reservations and inquires Call 0321-9555400 or 35817722-23
2- Spice Bazaar


Spice Bazaar, located at glamorous food paradise of Lahore, MM Alam Road. The place is known for best Lahori flavors as they're expert in Pakistani cuisine that you tempt at end of long fasting day. So, this Ramadan you can grab the variety of Iftar and Sehri buffet with delectable food items and refreshing drinks.
For Reservation Contact Tel: +92-42-35759014/5
3- Veranda Bistro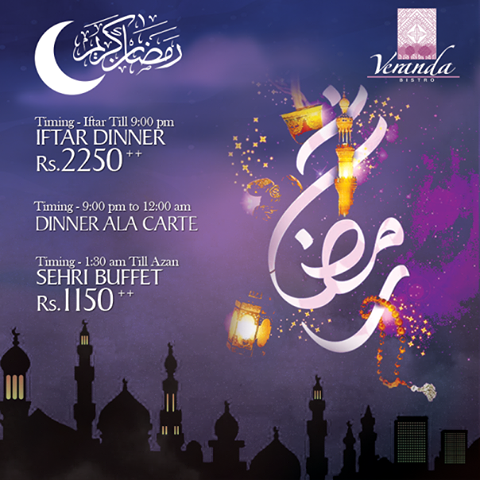 The eatery, located in Gulberg 2, right before MM Alam Road, is Veranda Bistro. The place is Known for its exceptionally-versatile iftar buffet menu, the place offers the most lavish main courses, ranging from the Lamb Roast and the Grilled Fish, different types to the salads, soups and desserts. Priced at Rs2250+tax (per head), and Sehri in 1150+tax
For Queries Contact at – (042) 35714764
4- Nisa Sultan
If you're in a quest of experiencing a different gastronomy, so Nisa Sultan is a best place to  hand one tantalizing Turkish Cuisine. It's located on MM Alam Road, the foodies favorite destination. Nisa Sultan offers quite economical Iftar Deal Rs.999+tax on extravagant menu. Well! The place is definitely worth trying out.
For Queries & Details:  -042-35785670
5– Tree Lounge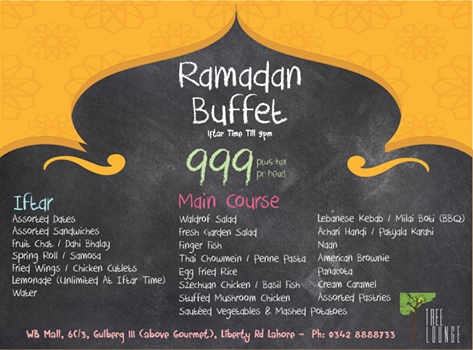 Another economical place to have delicious Iftar is tree Lounge, situated at Gulberg III, Noor Jahan Road Lahore. It's specialty is Asian and Continental Cuisine, where you could enjoy scrumptious Ramadan Buffet with Unlimited Lemonade at Iftar time, for only Rs.999+tax
For Reservations and Details: 0342 888 TREE (8733)
6- Sweet Affairs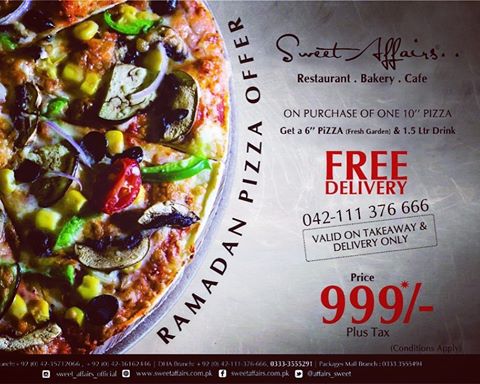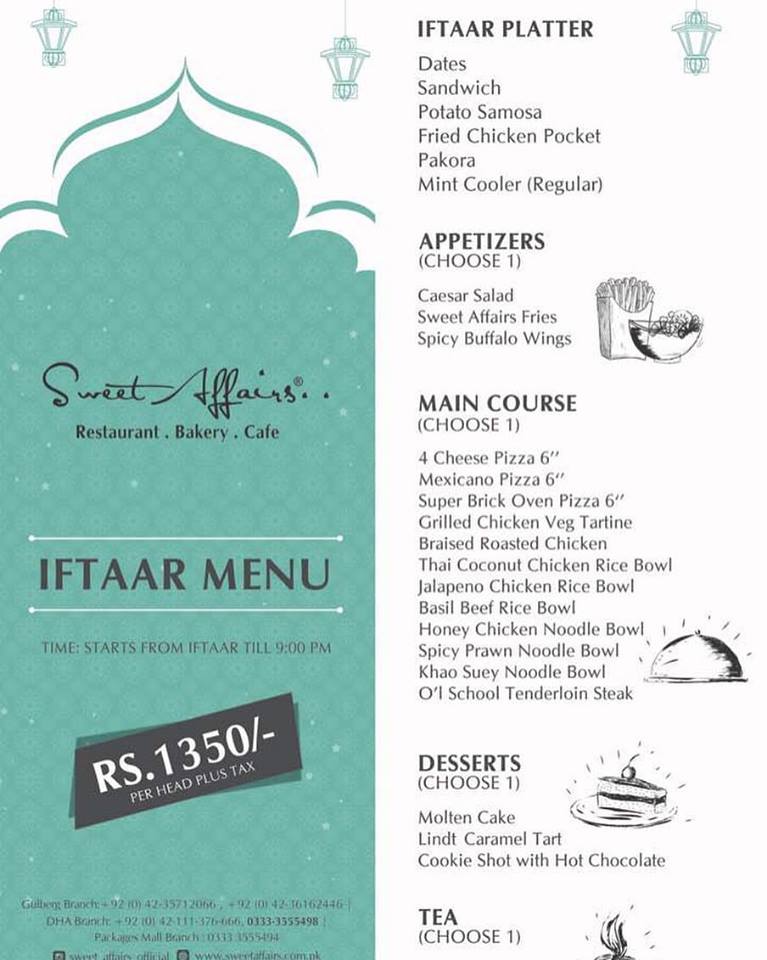 This bakery café has become the love of many foodies with its exotic options . This Ramadan the café throws a special offer of home delivery on 10″ pizza and get a 6″ pizza and 1.5litre drink for free! Definitely, an irresistible offer to the all Pizza lovers out there and Iftar Buffet costs 1350/Rs +tax
For Booking and Reservations! UAN 042111376666
7- Daar Cheeni

The month of Ramadan brings a lot of excitement, blessings and yes the time to hear lots of noise about numerous of food deals around the town.  Daar Cheeni Keeps the tradition of Ramadan alive and brings excited and special menu for iftaar for the foodies. Enjoy the luxurious Ramadan menu in the exquisite ambiance for Buffet Rs. 1495+Tax
For Reservation & Details Please Call: 042-35759835 0308 7777000
8- Café Backyard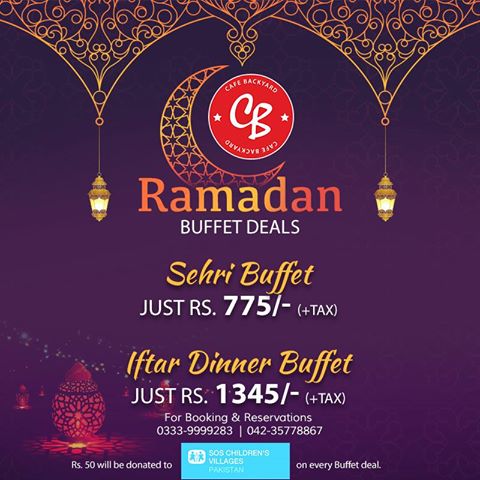 Café Backyard one of the famous place offering best Ramadan deal in town on elaborated menu. The eatery located at adjacent MM Alam Road.  There you can have Iftar Cum Dinner Buffet in 1345+tax and Sehri deal in 775+ tax
For Booking & Reservations Dial – For Reservations: 0333-9999283/0423-5778867 (But here you have to reserve you place with advance payment)
9-Pizza Hut
If you aren't a person lives with desi appetite,  Pizza Hut, the old name in Pizza parlors in the town,  This Ramadan Pizza Hut makes you indulge in all the Pizzas, Salads and Pepsi you want in just Rs. 849. This offers is valid for all branches of this Pizza Hut.
10- NY 212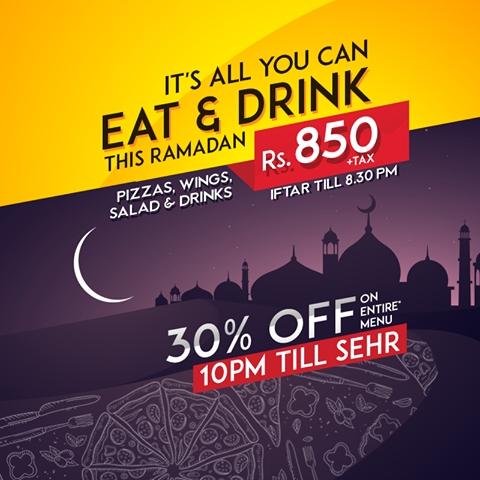 So, Ny 212 is like a dream Iftar place for fast food lovers to break their fast and settle hunger twinges in your growling tummy. NY212 announces, Ramadan deal with All-You-Can-Eat Pizzas, Wings, Salads, and Drinks only in Rs. 850/- + Tax. Plus, NY 212 throws a massive Discount of 30% OFF on our Entire Menu from 10 p.m till Sehr!
For Order and Delivery Just a call away – 111-169 -212
11- Salt and Pepper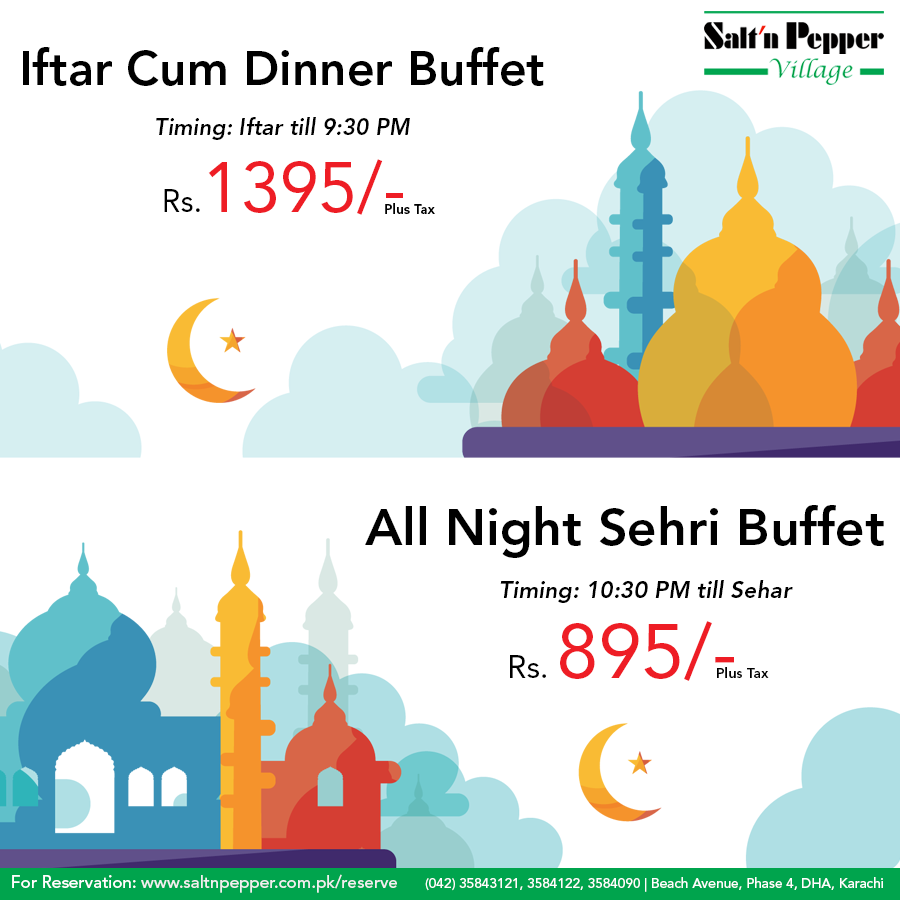 For enjoying true, desi flavors nothing can beat the salt and pepper menu, all-time favorite of Lahoris. What is more, when Salt n Pepper village giving you 10% Discount on advance booking, so grab the Iftar buffet at 1395+tax and Sehri in 895+ tax.
For Reservation Contact: (042) 35750735
12 -Burger King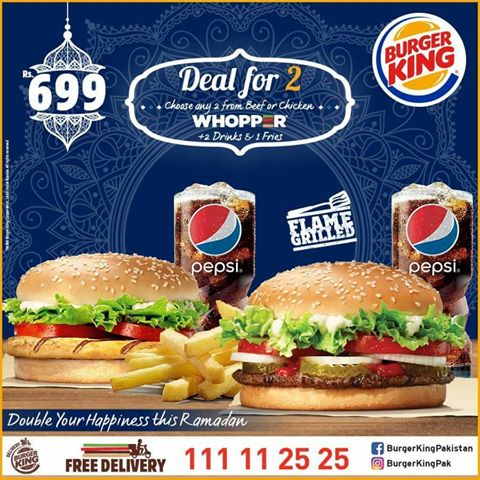 Burger King is ready to serve you with its scrumptious zests. Just grab the deal for 2 in 699/Rs or in 1199/ Rs a deal for 4.
For Order and Delivery: 111 11 25 25
13- Nando's


Nendo's came in last of this list but the most favorite place for Iftar of spice lovers. Fitness fanatics could easily mark Nando's as their favorite go-to restaurant for Iftar. Nendo's offers the deals which are absolutely pleasing for both the tummy and the pocket. At Nando's, the iftar deal comprises two chicken quarters, one serving of Peri Bites, one of Peri Chips, Spicy Rice and two bottomless drinks for approximately Rs750+tax (per head).
For Further Details : 111 NANDOS (626367)
You can discover more sweet places of Lahore city on Locally Lahore. Locally Lahore is a must have App, which allows you to explore Lahore and it covers up all point of interest. It gives you information about latest events and happenings in Lahore.
Download Locally Lahore Android & iPhone App. Join locally Lahore on G+ and Facebook to get in touch with the latest information and events of Lahore.
Find out more information of Locally Lahore App on www.locallylahore.com