As Summer has almost arrived and in Pakistan summer is all about lawn, so the Lahori women are leaving no stone unturned to stock up their wardrobe for the season. One can find this lawn mania everywhere in the city. Whether it's newspaper ads, posters, hoardings or a 96 sheet billboard on a busy street, like MM Alam, Main Boulevard Gulberg, around cavalry Bridge to Defense Mor, all taking the recent lawn craze with fancy exhibitions kick off. Designers are taking full advantage of this summer season craze and one can already spot hundreds of designer lawn billboards spreading all over the city.

Gone are the days when good old pathan markets are buzzing with customers who want to grab the best deals and unstitched shirt from the shops of lovely Liberty Market was as good as anything. There shop keepers unrolled a 'thaan' of your choice to cut out a lawn suit from it. Today, this summer shopping has totally changed, when shoppers are asked to select any designer lawn from catalog.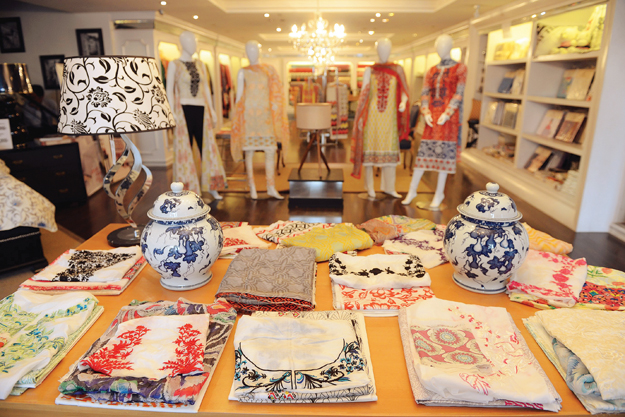 No doubt, Pakistani designers are doing such wonderful job and taking this lawn craze to the next level. Advertising is the science of attracting the human intellect long enough to get money from it. But in our country, as far as billboard marketing is concerned these days, advertising seems a science of arresting women desire for lawn. With these alluring lawn ads all over the city, Pakistani women almost losing their sanity and getting crazy for their seasonal lawn hunt trips.
In past, lawn was considered as a casual clothing of summers but now it has become more of a luxury and with spice of brand mania. With the adjoining of fashion designers and lawn manufacturers, in last five years, it has shaped a hugely new summer shopping trends. Now lawn is coming in fancy, embroidered and even flyer illustrating proposed designs. The concept of "dress to impress" is behind that amount of over-priced lawn hype everywhere. Numerous designers came up with their creative designing ideas and plenty of lawn options available in the market now, as well as their replicas too.
Certainly! Lawn is purely cotton based fabric which is ideal to our climate. There is nothing wrong with purchasing and exhibiting this beautiful fabric or even indulging in a bit of shopping therapy, but getting overly obsessed with this lawn mania, isn't so okay. As our very talented designers, also need to bit calm down and break this sensationalizing such simple and classic piece of fabric that is worn for the longest period of time in the year, besides it has a special place in all Pakistani women's hearts. As, people could enjoy this beautiful fabric regardless of any tag of social status.
---
Download Locally Lahore Android & iPhone App. Join locally Lahore on G+ and Facebook to get in touch with the latest information and events of Lahore.
Find out more information of Locally Lahore App on www.locallylahore.com