People who have received both doses of Covid-19 are eligible to get an immunization certificate. You can get your Covid-19 immunization certificate from the National Database and Registration Authority (NADRA).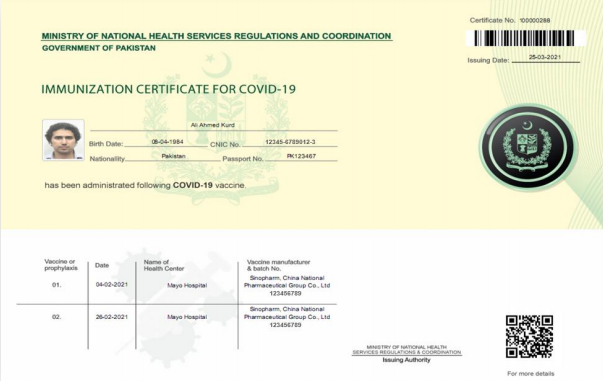 Pakistan is suffering from the 3rd wave of coronavirus. Though Pakistan is fighting with the novel virus very effectively and the positivity ratio of the coronavirus has declined. People of Pakistan are getting their jabs of Covid-19 from the vaccination centres and the immunization certificate for them can be received from NADRA. 
Read More: The Covid-19 vaccination registration for 19 and 19 above people has started from 27th May.
Moreover, you can avail the facility to download this certificate online too. You just have to log on to the NADRA's website and enter the asked credentials. The credentials include your CNIC number and CNIC issuance date.
After logging in, you will have to enter your credit/debit card details to further proceed. There is a fee for the Covid-19 certificate i.e. 100 rupees. Moreover, people who are not computer literate or can't get the certificate online can visit their nearest NADRA office to get an immunization certificate. 
Hence remember, this facility is only for the people who received both doses of coronavirus. Click here to download your immunization certificate now.