Find out about the Gates of Walled City of Lahore. The city of Lahore has seen many remarkable ages and dynasties, and in the narrow lanes of the old city you can still find traces of the city's glorious past. It is not difficult to envision the majesty of the long gone era by looking at the many imposing structures that are still standing tall while some have crumbled to dust. Among such structures worth mentioning are the gates of Lahore. For safety purposes, the Old City of Lahore was enclosed by a 9 meter high brick wall and had a rampart running around it, for that reason it's also known as Walled city. The 13 gates made of wood and iron, gave access to the city and were closed in the evening.
These gates were constructed during Emperor Akbar's rein (1584 -1598). During Ranjit Singh's (1799 to 1849) times, the fast falling walls were rebuilt in 1812. All of these gates continued to exist until the 19th century. Some were rebuilt in simple structures, except for Delhi Gate and Lahori Gate. Only 6 of these ancient gates are present these days that include Roshnae, Delhi, Shairanwala, Bhati, Kashmiri and Lahori.
Gates of Walled City of Lahore
Andrun Shehar Lahore Kay 12 Darwazay
Delhi Gate
The Delhi gate is situated on eastern side of the Lahore city. It was built in mughal era. Akbar the great ordered its construction. The direction of this gate is towards Delhi, so this gate is named, Delhi gate. This gate was badly damaged during last days of mughal rule due to fights. In Sikh period this gate was built again. This time it was built in dual gates formation. But in very short duration it was again damaged due to fights among Sikhs for succession. When British came in power and the process of development started. This gate was built with new design. The construction was outsourced to 'Mian Sultan' the Tehkaydar.
It was constructed double story, wide and modern. The offices of municipal officers and police were on second story. This last construction of British era stands till day. The influence of local architecture is prominent with mixture of western design. The famous Shahi Hamam is inside Delhi gate. It is one of the most famous gates of Lahore. Inside the gate, there are a number of historical buildings, old streets and markets. Wazir Khan Mosque, another majestic inheritance from Mughal Empire, exists within the gate. The tomb of Tomb of Syed Muhammad Ishaq also exists in the courtyard of the mosque.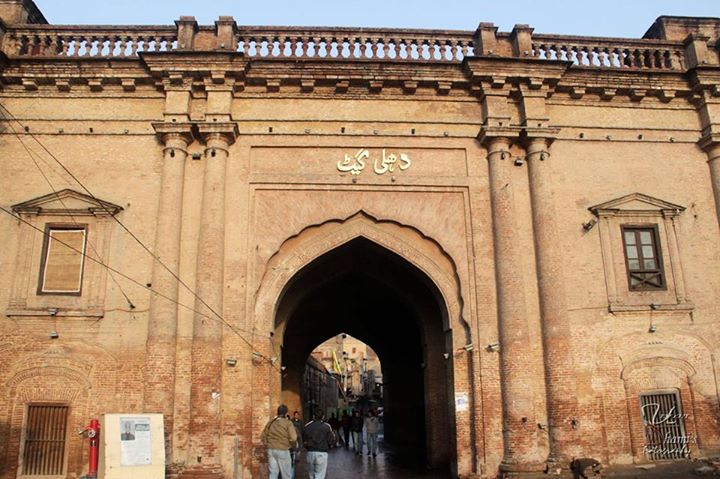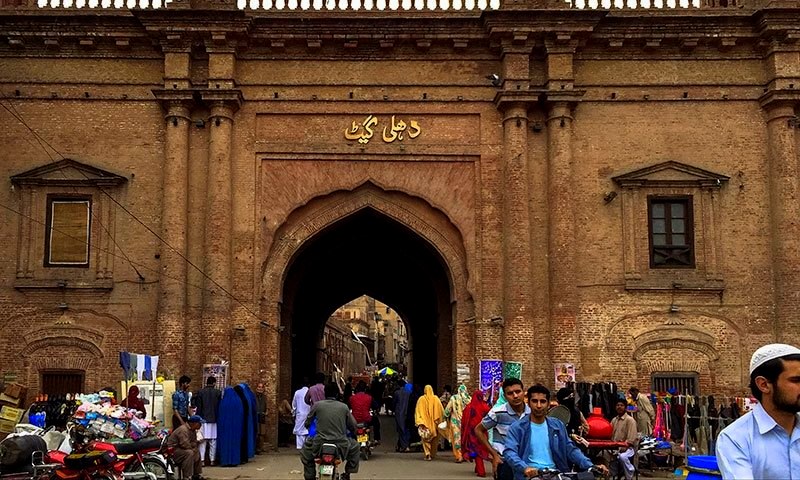 Upside the gate, there is an archaeological styled building that is currently being used as a government school for girls. The gate also contains a number of old havelies to fetch the tourists in to a state of surprise. A big cloth market is located around Delhi gate. The gate also includes a holy place for Hindus "Shawala Baba Bhakar Guru". Across the gate, there is Landa Bazar, where recycled attires are sold at amazingly economical rates. Interestingly, sometimes the stuff of the attires is quite better than that of new ones.
Roshnai Gate
This gate was originally a gate of royal fort. Roshnai gate lies between Lahore Fort and Badshahi Mosque. On the south side of Hazuri Bagh. In those days Hazuri bagh was part of fort. This garden was built by Maharajah Ranjit Singh in 1813 to celebrate the capture of the famous Koh-i-Noor Diamond from Shah Shujah of Afghanistan.The name Roshnai gate was due to lighting, which was done every night by the order of Emperor. In fact this gate was a link between walled city and fort. It was double gate. Now day's only one side is available and this side is facing city. The Roshnai Gate is the gate that still is in fine condition and lives through its original looks.
Akbari Gate
The Akbari gate is situated towards south west of Delhi gate and it is facing Rehman Galian area. It was named after Jalal-Ud-Din Muhammad Akbar (1542-1605). Akbar the great ordered to build this gate for access of traffic to grain market. This grain market was constructed on special orders of the Emperor. He wants this market successful for betterment of people. With the passage of time the gate got dilapidated. During the reign of English though it was renovated, nevertheless currently once again it has lost its magnificence. Close to this gate, the royal leader also established a market, which is known as "Akbari Mandi". It is the biggest wholesale and retail market of Lahore, in which food grains of all kinds are traded. It's a widespread market with hundreds of wholesale and retail shops.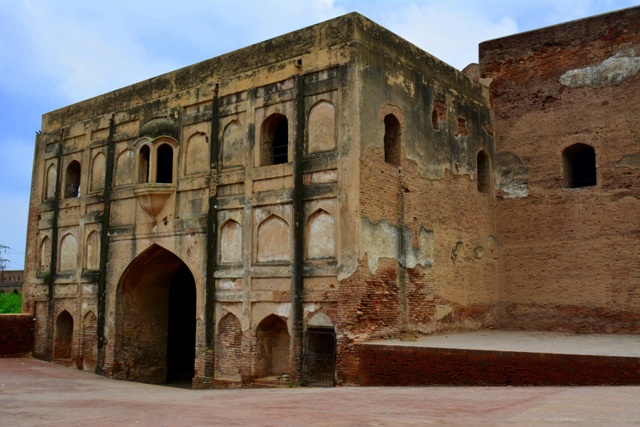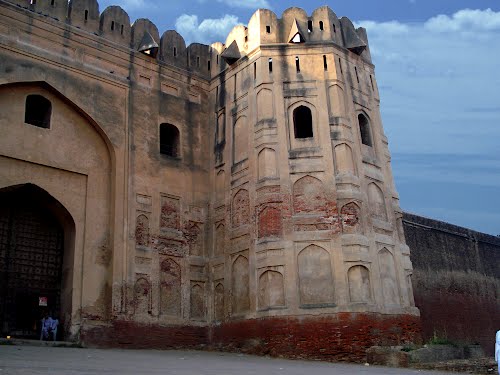 Zakki/Yakki Gate
The Zakki gate is named after a Sufi elder, named 'Peer Zaki'. He was appointed caretaker of this gate by mughal rulers. He was kind hearted person and true solider by profession. He performed his duties with great loyalty. Due to his good behavior, he respected by everyone. When he became old, in those days, the city came under siege. Heavily armed groups of brutal plunderers were attacking gates to get inside city for looting. Peer Zaki bravely defended his gate. But the gate was old and number of defenders was short. The plunderers soon make entrance through gate. Peer Zaki stood in center of gate and fought bravely. In this fight he was beheaded but instead of falling down his body keeps fighting without head.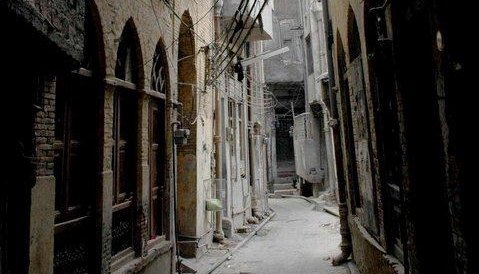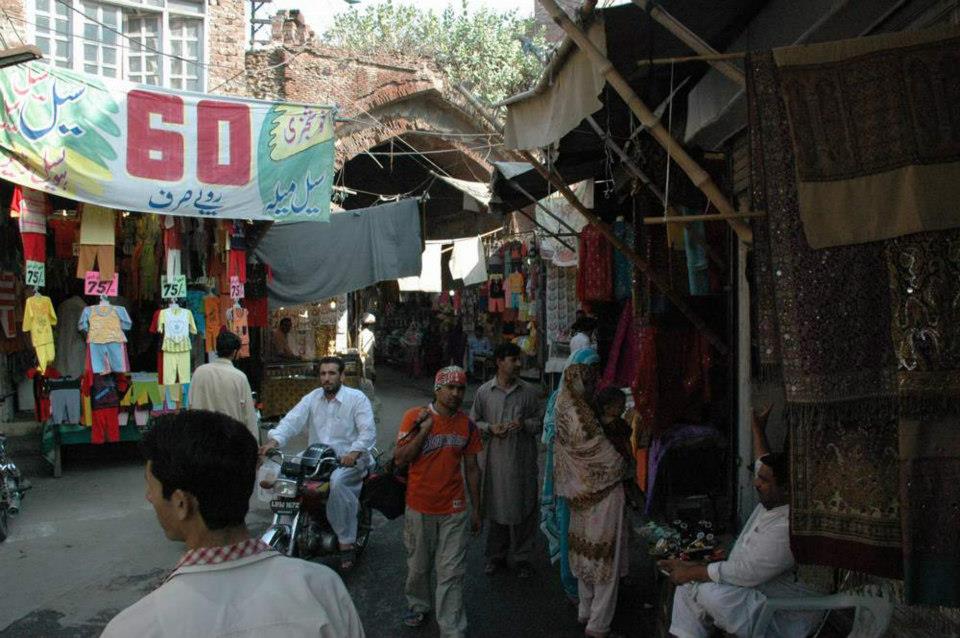 Sometime passed, the head less body of Peer Zaki keep on fighting up till further few hundred yards inside the gate. Now there are two graves one outside the gate, where head is buried and one grave is inside the gate where body is buried. The people use to visit both graves and offer prayers. This is due to soft assent of Lahoris, they converted 'Z' to 'Y'. There is school for blinds situated nearby the gate. Besides, there are a number of havelis located in and around the gate. A number of temples are also located in and around Yakki Gate.
Bhati Gate
Bhati Gate entrance is located on the Western wall of the Old City. It is one of the two oldest entry points into the Walled City which controlled the only major north-south thoroughfare during Ghaznavid period. When the Emperor Akbar expanded the city eastward and divided it into nine districts or Guzars, Bhati Gate and its bazar marked the boundary between Guzar Mubarak Khan (east) and Guzar Talwarra (west).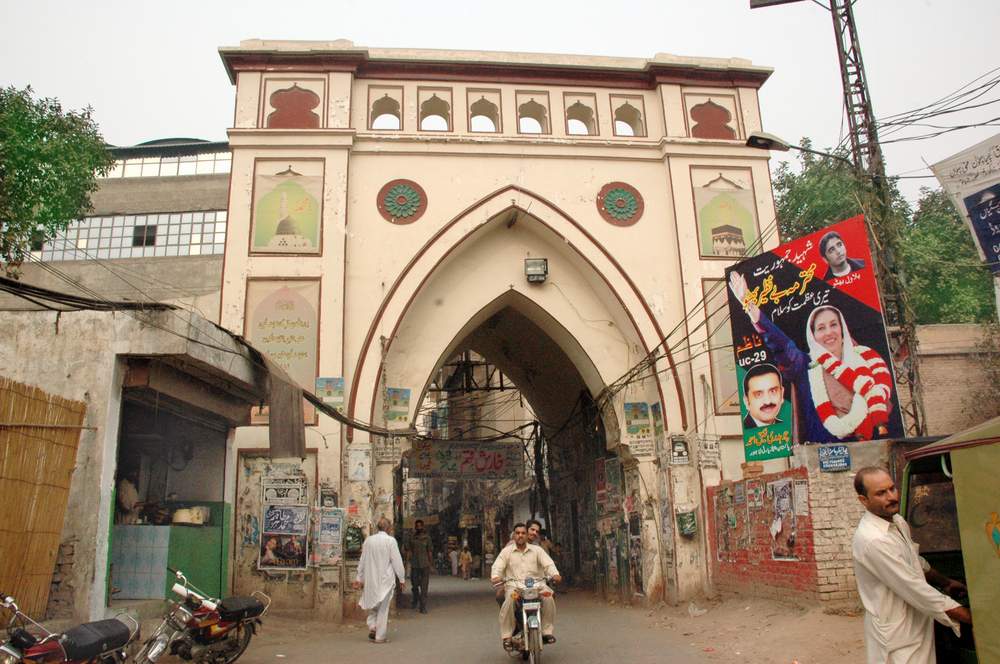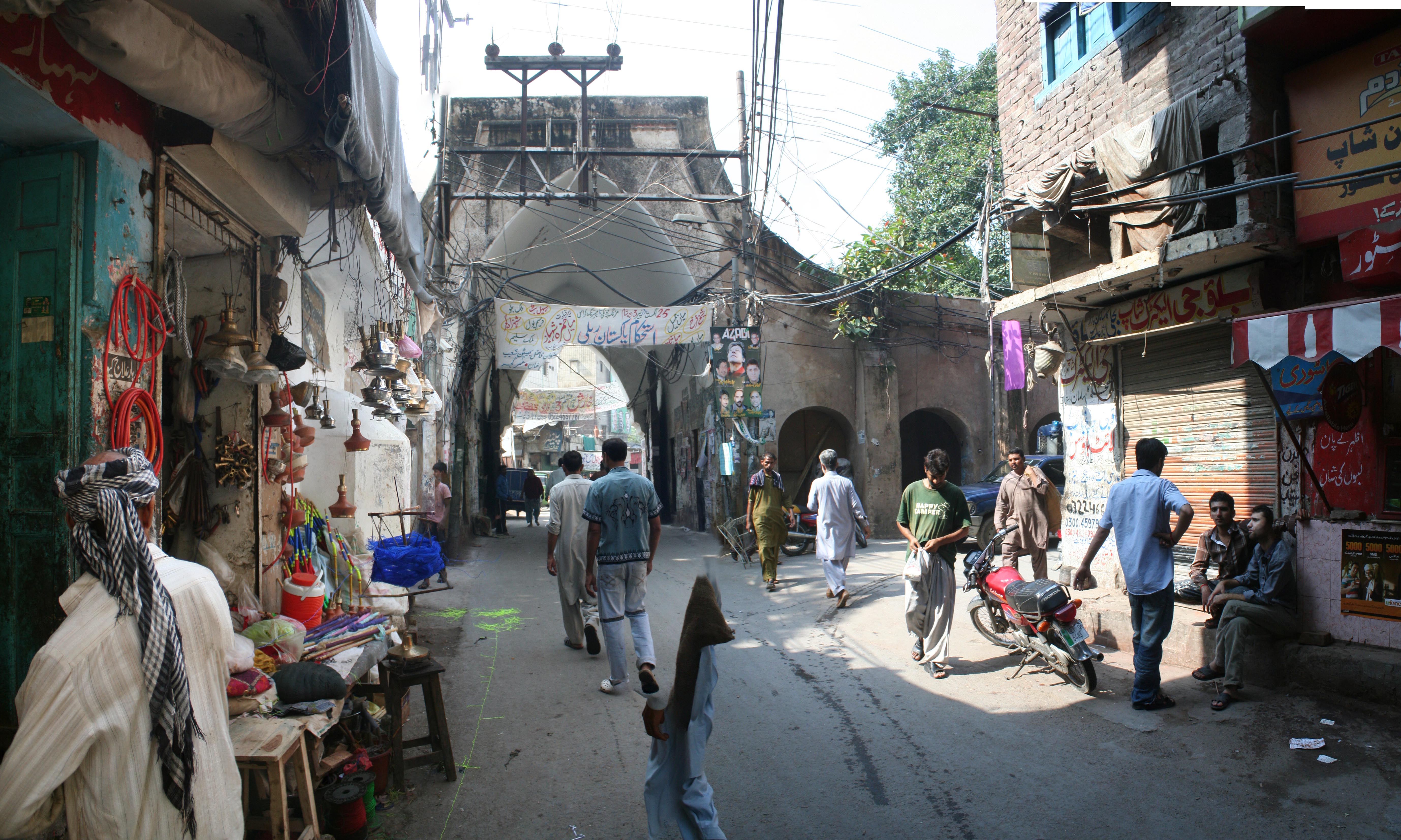 It was called Bhati gate because it opens in the direction of Sandal Bar named after Rai Sandal Khan a Bhatti Rajput who lived there in ancient times. The area inside the gate is well known throughout the city for its food. Just outside of Bhati Gate is Data Durbar, the mausoleum of the Sufi saint Ali Hajweri. Every Thursday evening musicians used to gather here to perform Qawwali music, but these days qawalies have been replaced with Naats and religious sermons.
Khizar /Sheranwala Gate
Hazrat Khwaja Khizr Elias, a great saint of the times, was known as "Amer-ul-Bahar". He had special association with running waters and was the discoverer of "water of immortality". The gate was named "Khiziri" gate after his name. It is one of the three gates located in the north side of the city. In old times river Ravi used to flow by the walled city Lahore and sea-transportation used to take place near to this gate. When Maharaja Ranjit Singh got hold of the city, he kept two domesticated lions in a cage for the protection purposes on the gate. In that context the gate was named as "Sheranwala gate".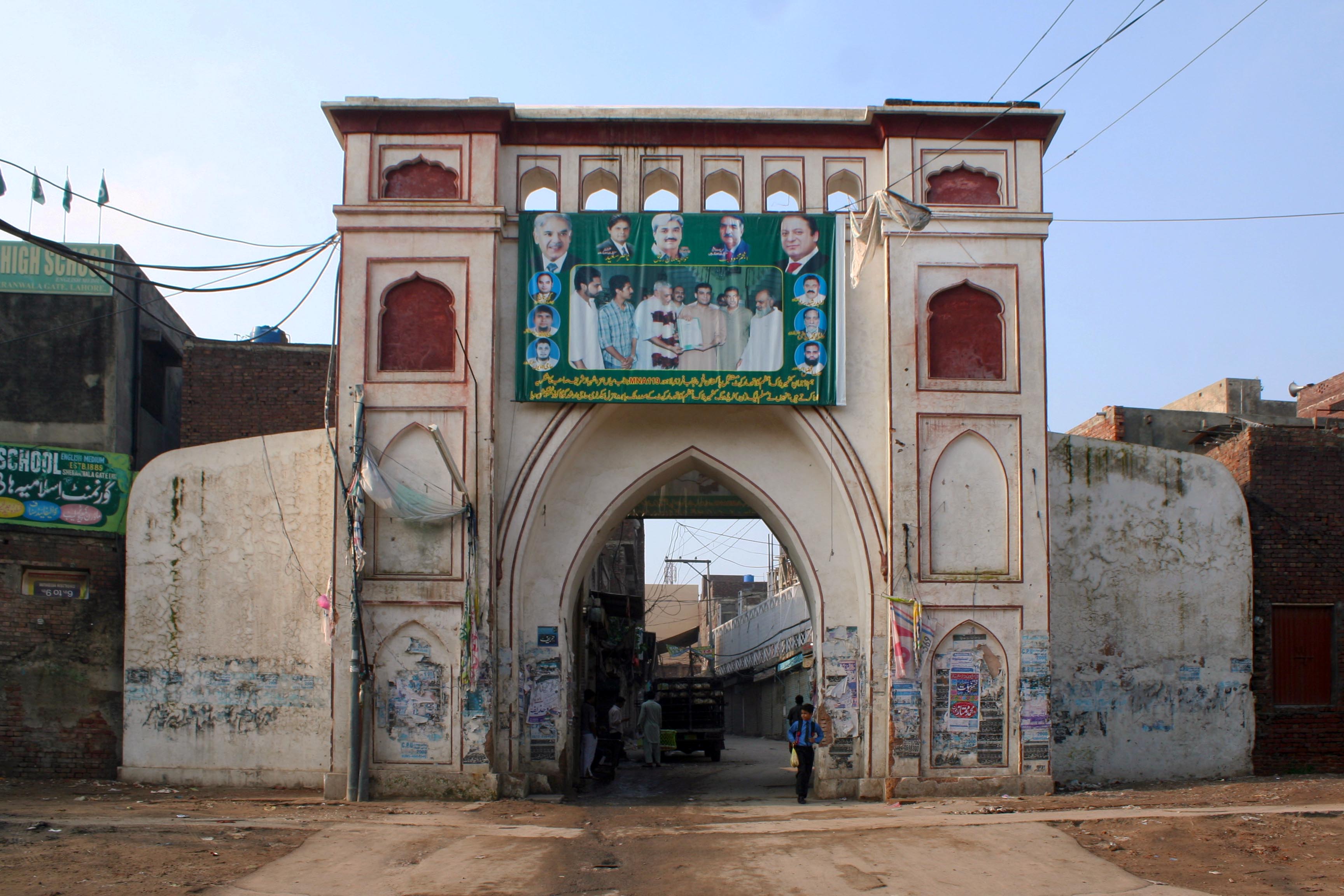 The Italian traveler Niccola Mannuchi who visited Lahore in 1667 named it Qadri Gate, however historians has not come across the reason behind it yet. Life inside the gate truly describes traditional old Lahori way of living. Narrow bazaar brimming with a variety of necessities of daily life remains open till late at night. There is also a famous Government School for Deaf and Dumb Khizri Mohala. The current condition of the gate and its structure is in extremely pathetic. The lime plaster and the paint have been depreciated completely. A number of cracks, billboards and advertisements on the walls are cursing the majesty of the Mughal Empire.
Lohari Gate
The oldest gate of the walled city, Lahori gate is located in south and wrongly pronounced as "Lohari" gate. The gate was named after the city Lahore. Actually during Hindu Raj, "Ichra" was supposed to be the actual Lahore. As the gate faced towards it, consequently it was named as "Lahori Dawaza". However, another school of thought acclaims that "Lohari" comes from Urdu word "Loha" which means "Iron". According to this school of thought, a number of "Lohars" had their shops just outside the gate, for that reason the gate is known as Lohari gate. Nevertheless, the former myth is highly acknowledged than the later one.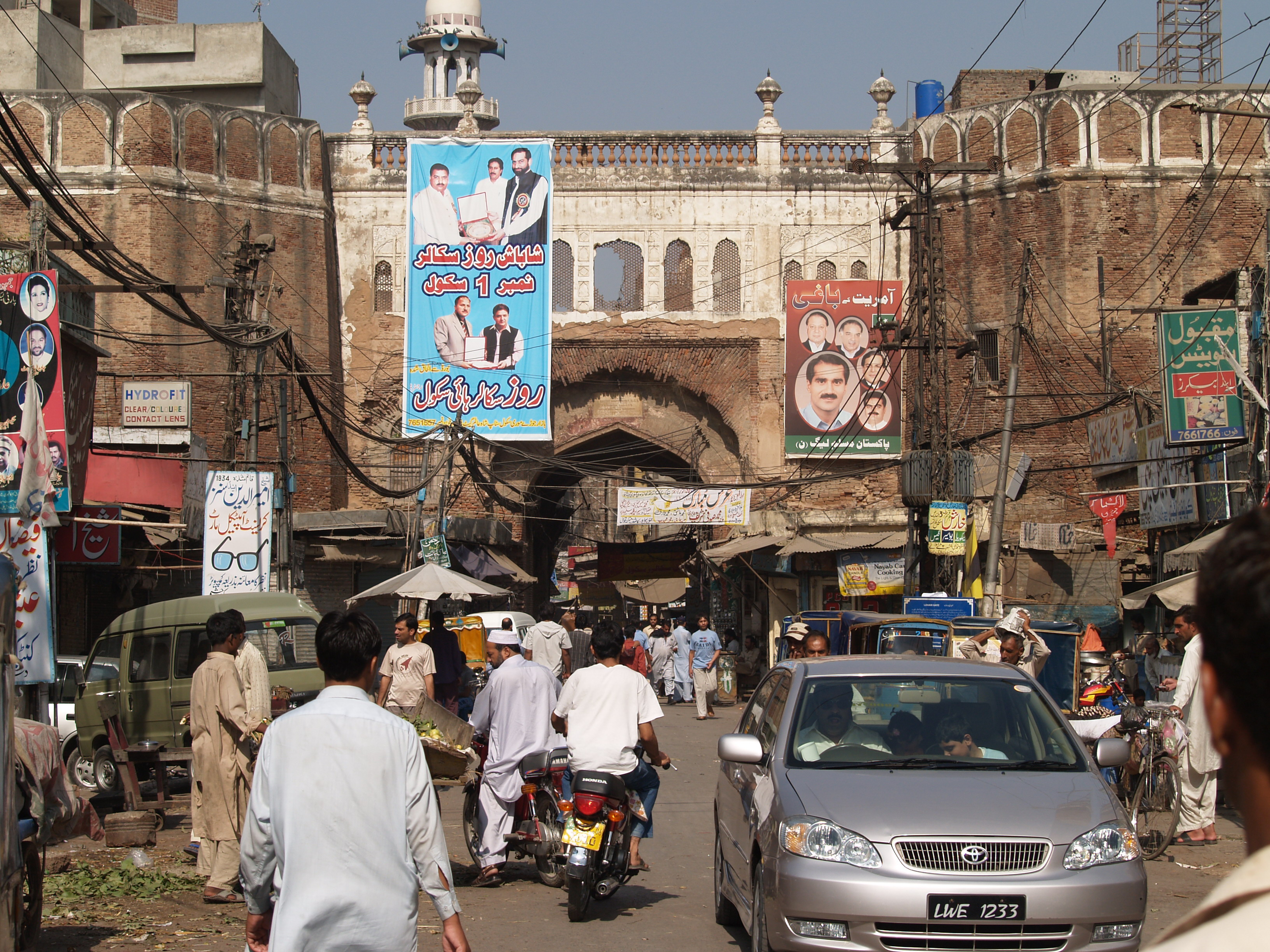 History asserts that during the time of Mahmood Ghaznavi when Malik Ayaz reconstructed the town, the accommodation of the city was first populated about this gate. When Maharaja Ranjit Singh surrounded Lahore with a large force, it was Muhkim Din Chaudary, who was in charge of Lahori Gate in those times. He connived with Raja and opened it secretly for him and in this way Raja took possession of the city. Currently inside the gate there are innumerable typical Lahori spicy-cum-heavy food spots. Haji Sahib Nahari walay, Sheikh Chathara and Sweets, Mehar Bashir Halwae and Hafiz Channay are some of the most famous food spots of the area. Groups and groups of people come here to relish the scrumptious food and witness the glory of historical buildings of Mughal era.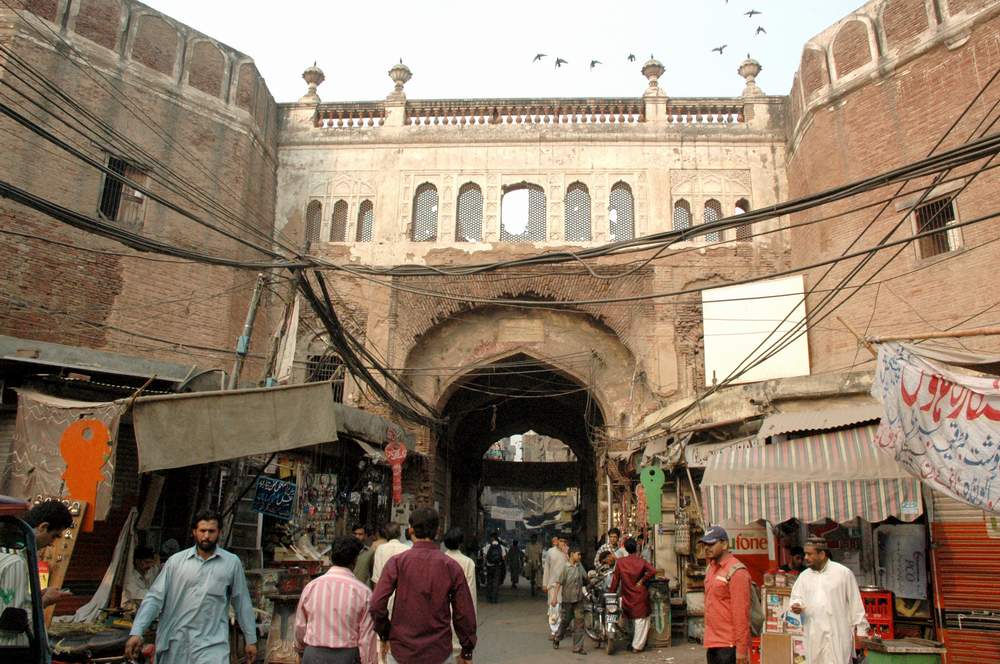 Just outside the gate, is located a beautiful mosque named as Muslim Masjid. Many flower shops are sited in the shelter of the mosque, which sell flowers and garlands of every kind. Behind the gate once there stood a brick fort called Kacha Kot. Biggest optical market of Lahore is also located here. One of the biggest and dazzling bazaars of Lahore, Anarkali, is situated just across the Lahori gate. The bazaar is extremely popular among middle class group for a variety of stitched and un-stitched clothes and shoes. A large number of tourists are also seen visiting the area. The tomb of Qutb-Ud-Din Aibak, first Muslim ruler of Subcontinent, is also adjacent to Anarkali Bazaar.
Kashmiri Gate
Kashmiri gate is so named because of its opening towards valley Kashmir. Inside the gate there is a shopping area called "Kashmiri Bazaar". It is a widespread bazaar with narrow markets and alleyways in every corner. A roadway to Wazir Khan Mosque is also accessed from the bazaar. A big market of children shoes is also situated in this gate. The gate also leads to a roadway towards Asia's number one cloth market, Azam Cloth market. It contains more than about 16000 shops of clothes. A girl's college is also located in an old yet majestic haveli of a shah. Furthermore, the current condition of the historic gate is just pathetic. Advertisements of different shops and banners of some political parties are heavily costing the splendor of the Mughal art.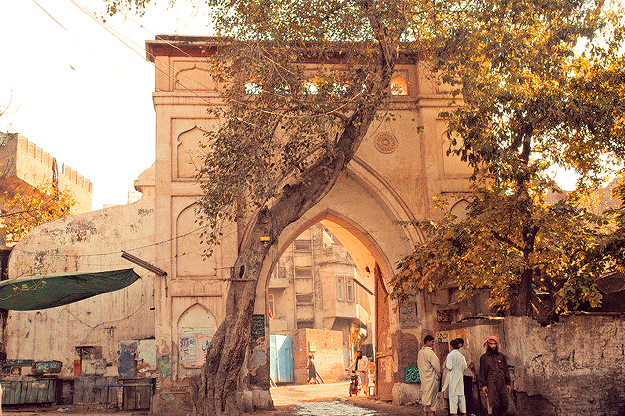 Mori Gate
In between Lahori and Bhati, there used to be the smallest gateway called, Mori Darwaza. Though it wasn't a particular gate as the other twelve ones but even then it's included among the great series constructed during the Mughal Empire. In Urdu, word "Mori" is referred to a "small hole". Since it was a small gateway for that reason it is named, "Mori Gate". In the evening when all of the twelve gates were closed for security purposes then this particular opening gave access to the walled city. Moreover, it was also used as outlet for the refuse and the sweepings of the city.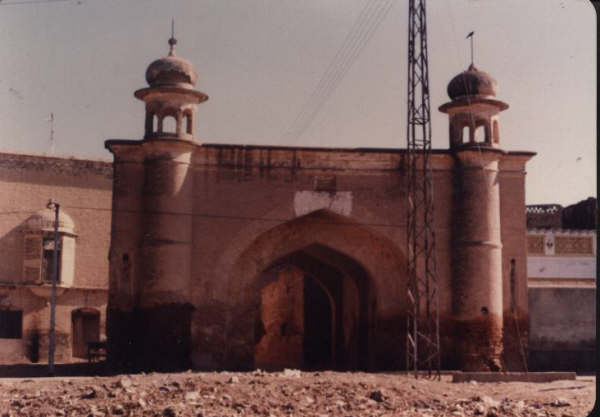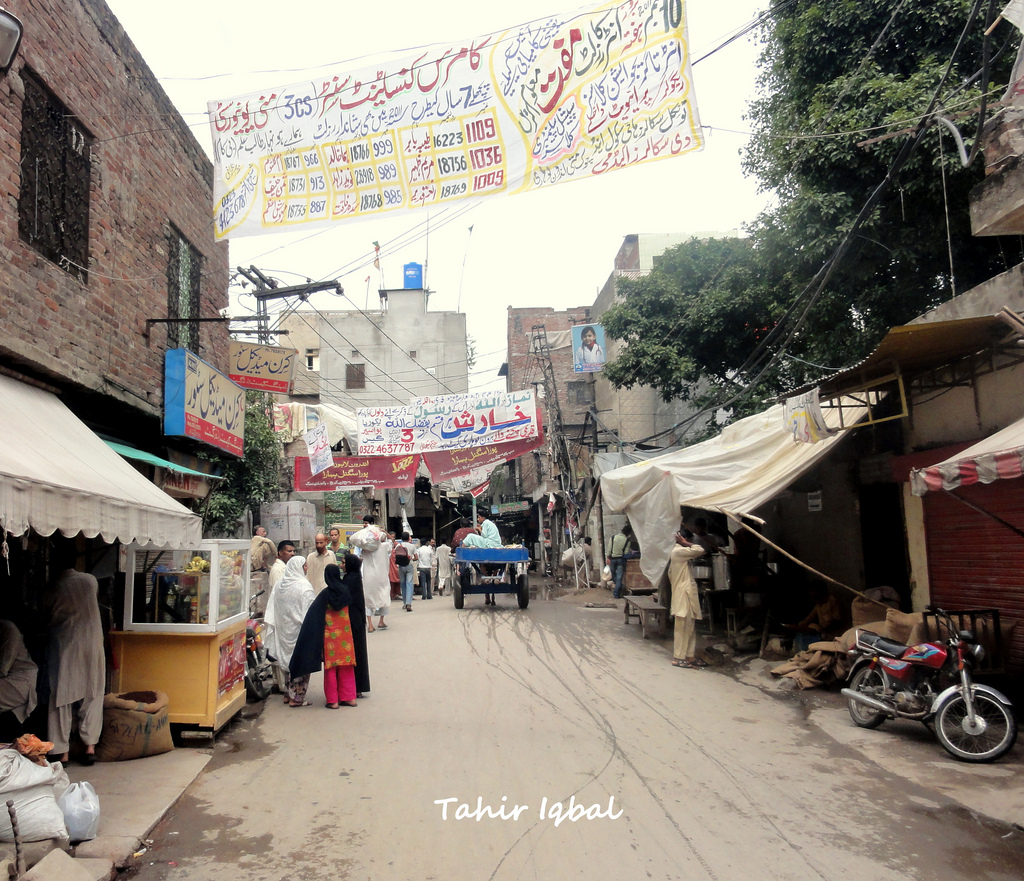 Inside the gate an alley leads to a square named Chowk Jhanda. Behind the gate once stood a narrow street which leads to an open area. This open area was once a large garden and the haveli of Nau Nihal Singh. Today, though there is no remnant of that garden but the haveli lives to tell the tale along with some of its ornamentation. Just across the gate there also exists the biggest market for knowledge seekers, Urdu Bazaar, where a number of book lovers daily visit in order to quench their thirst of knowledge.
Shah Alam Gate
Shah Alam was a mughal Emperor. He was son of famous mughal emperor Aurangzeb Alamgir. When Shahalam visited Lahore, one of his advisers told him that he should construct some land mark building like his forefathers. So Emperor Shahalam ordered his building department to construct a majestic gate between Mochi and Lohari gates. The Shah alam Gate was youngest and modern then other gates. Mostly it was used by elite class and special troops to move in and out.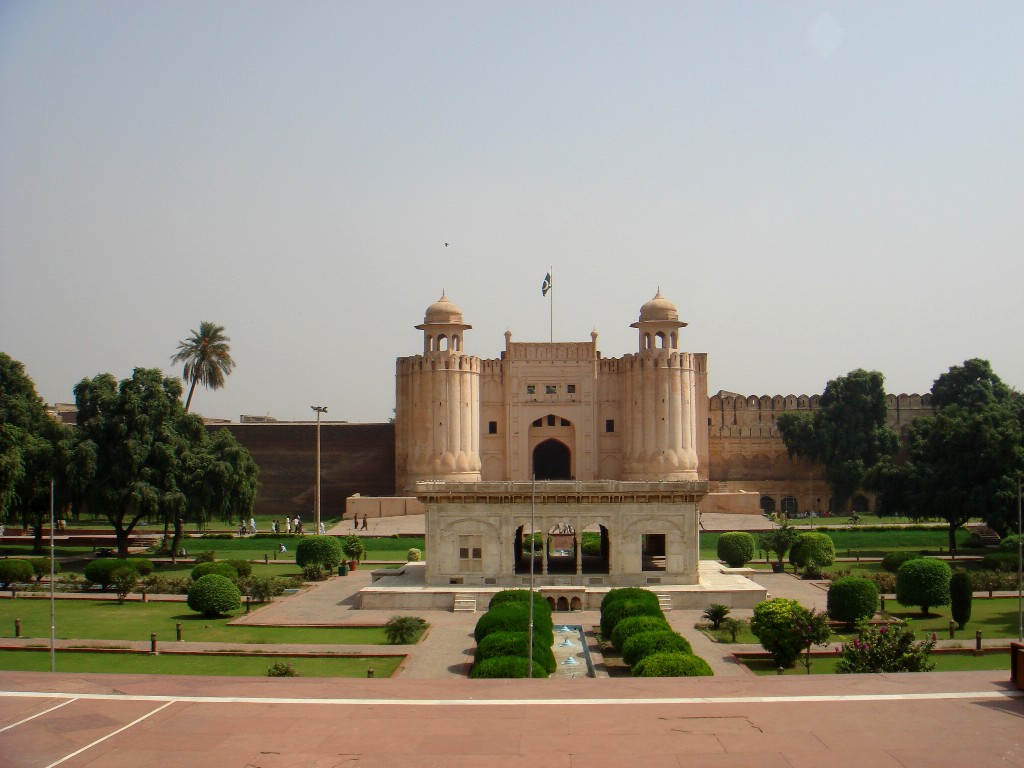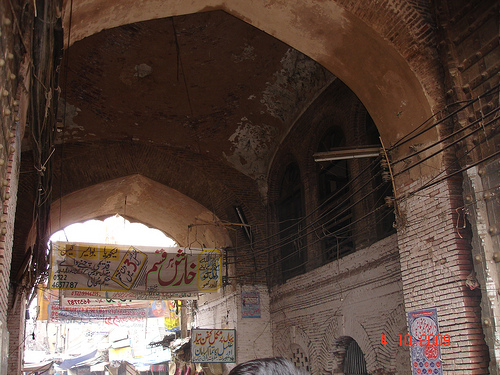 Outside this gate were very beautiful gardens owned by prominent elites. Inside this gate was trading houses and storage of leading businessmen. Beside burned down to ashes twice in last one hundred and fifty years. The legend to be a business area lives till now and major business markets are situated inside Shahalam gate area. This gate stood strong during last mughal and Sikh period but fire made it weak. After the riots of mid fifty, the burned areas inside Shahalam gate were cleared and new buildings were constructed for business point of view.
Taxali Gate
To access the walled city through heavily fortified brick wall, one of the two gates built in the west, is called "Texali Gate". The gate is so called because of a Taxal that used to exist quite near to the gate. However, both Mint and the gate are no more today. Currently, the gate is frequently visited by food lover Lahories as the bazaar around it has to serve best quality typical Lahori breakfast that includes Pa'ay of Fazal Din colloquially known as "Phajja" and Halwa Puri of Taj Mehal and Shahbudin Halwai. The bazaar is also renowned for the musical instruments that are made and sold here. Besides, a large number of people from all over the city specially visit Sheikuprian Bazaar to buy best quality Khussa, Peshawari and Kohla-Puri Chappal.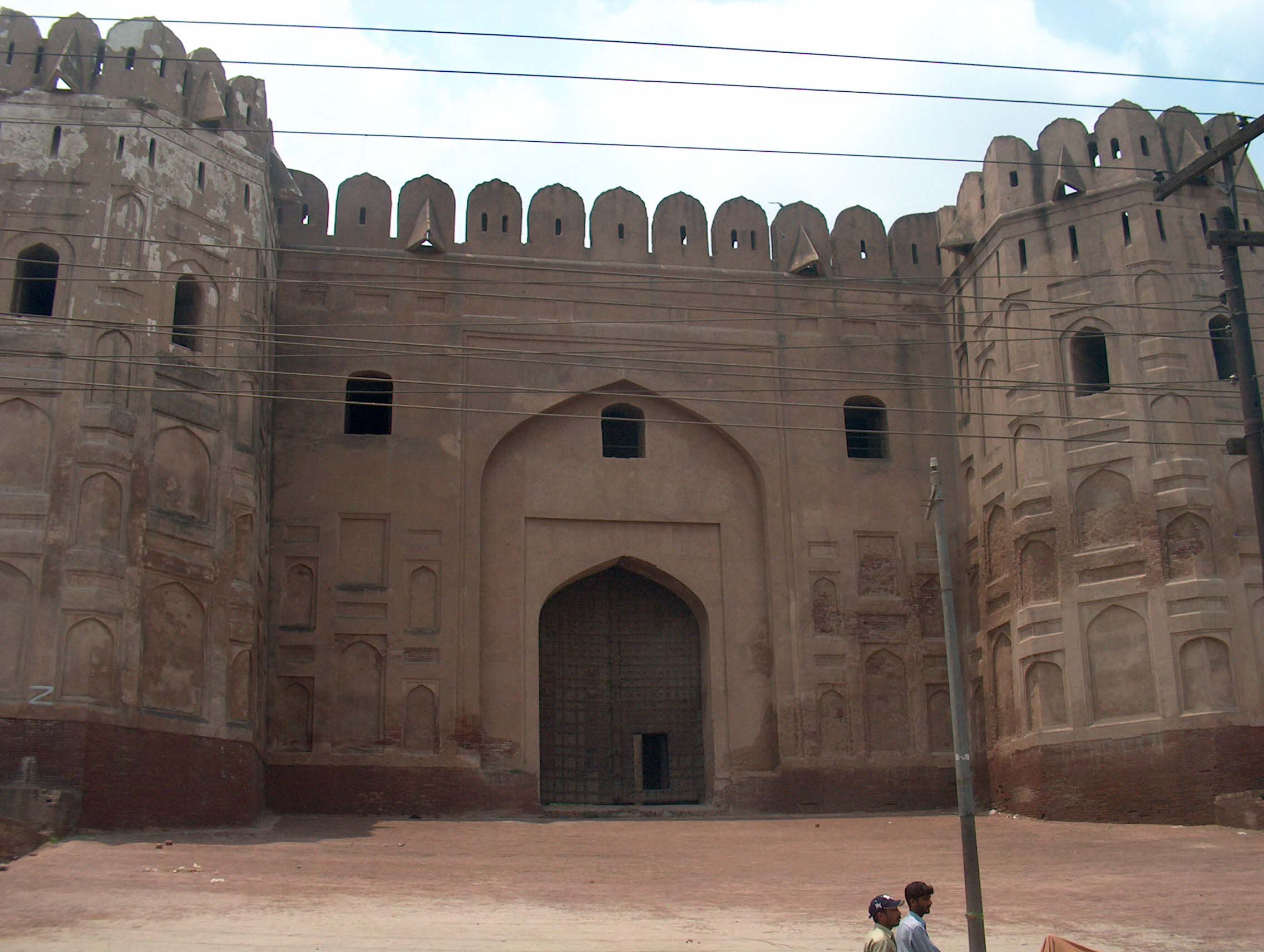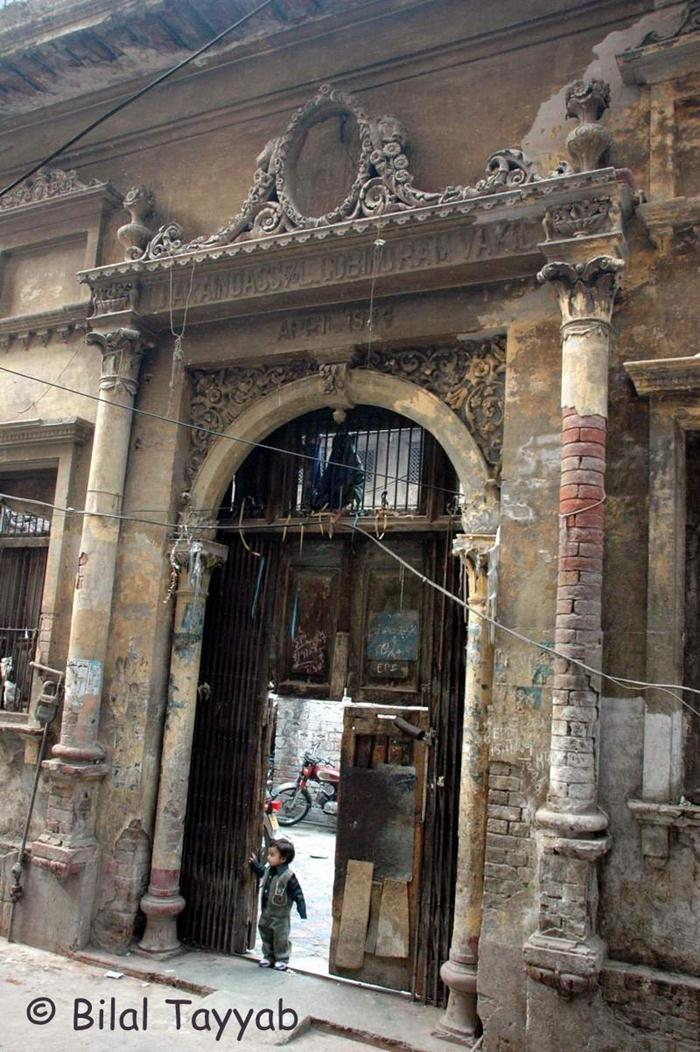 Mochi Gate
Located in south, Mochi gate is yet another significant mark of Mughal Empire. The name of the gate in fact is marred form of "Moti" or "Morchi". Pandit Moti Ram, a guard in the reign of Akbar used to watch over the gate. He remained associated with his job till he breathed his last. For that reason it was named after him. Nevertheless, some historians assert that "Mochi" is the marred form of Urdu word "Morchi" which means "Trench Soldier". It is further supported by the fact that the different streets which still bear their old names are the Mohalla Teer-garan , Mohalla Kaman-garan.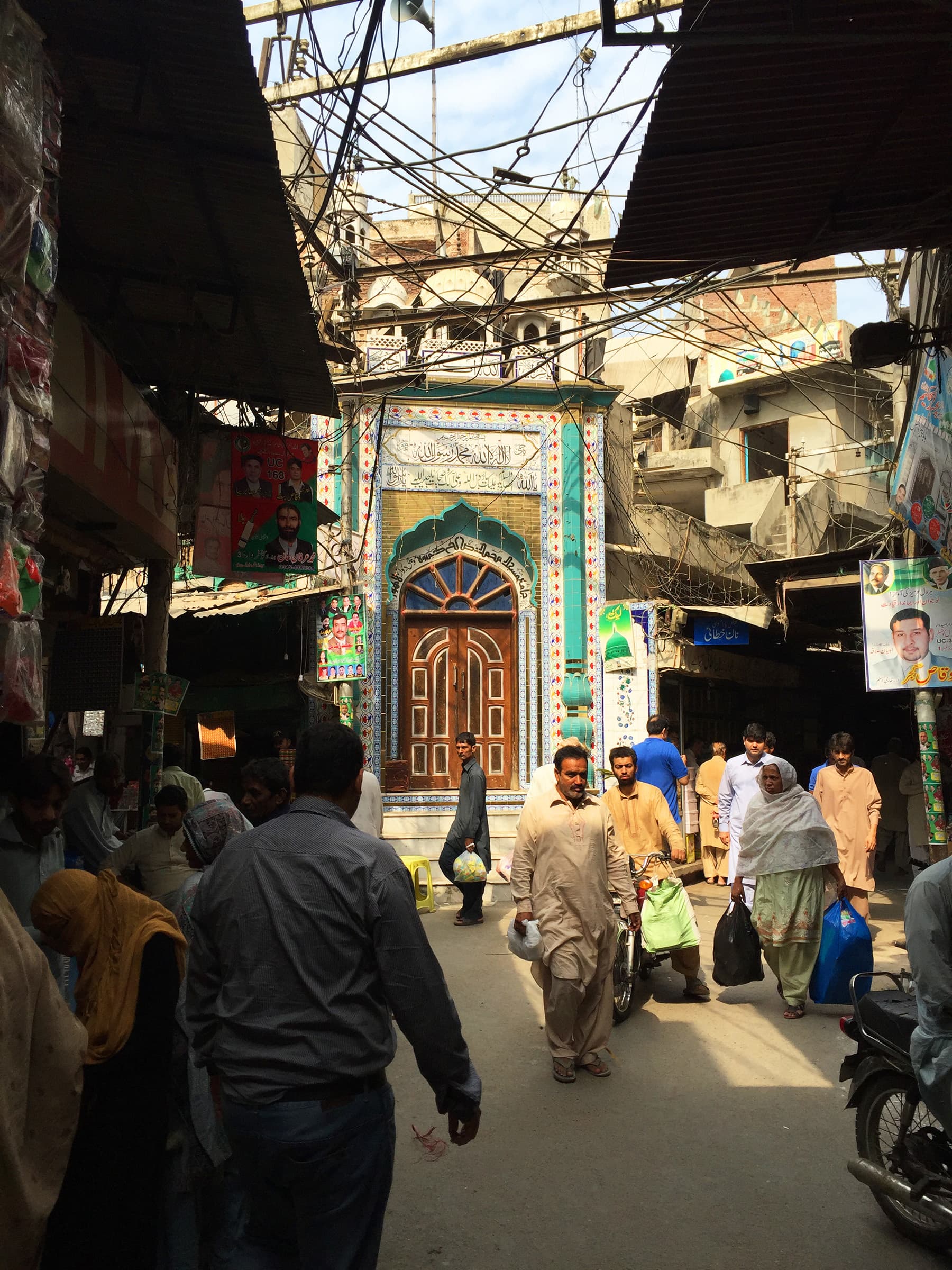 On the immediate right of the gate, there exists Mochi Bagh which is one of the major places for political get together in Lahore. Many political, processions and gatherings take place here. Dried fruit markets, kites shops and that of fireworks are the splendor of this historical gate. Fazal Sweet House is the famous sweet shop of the area. The gate is also a prominent roadway for some reputed Havelis of the Mughal Empire. They include Mubarak Haveli, Nisar Haveli and Laal Haveli. A number of Imam Bargahs are also located in different havelis.
Reference:
You can discover more historical and interesting places of Lahore city on Locally Lahore. Locally Lahore is a must have App, which allows you to explore Lahore and it covers up all point of interest. It gives you information about latest events and happenings in Lahore.
Download Locally Lahore Android & iPhone App. Join locally lahore on G+ and Facebook to get in touch with the latest information and events of Lahore.
Find out more information of Locally Lahore App on www.locallylahore.com