The Walled City Of Lahore– A place of beauty, endeavor, class, magnificence, royalty and Sufism. We talk about Lahore and we don't discuss Data Darbar it's so unfair. The grandeur of Lahore owes to Data Darbar.
Data Ki Nagri- Walled City Of Lahore:
Lahore is known as "Data Ki Nagri". People from all over the world come to pay homage to shrine of Data Sahib. It has become a tradition now that people from all sects follow blindly Hazrat Data Ganj Buksh. Data Darbar has a special place in the modern and ancient history of the Walled City Of Lahore.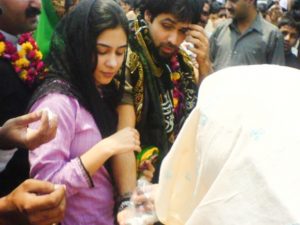 Surroundings of Data Darbaar:
In the surrounding areas of Data Darbar, there are a lot of small houses. Most of the people in them are true followers of Data Sahib. Opposite Data Darbar there are a lot of small and big shops decorated beautifully. They remain open day and night increasing beauty of Walled City Of Lahore. People from all around the world come to see such things.
They have many small antique pieces as well. Some people deal in shawls, toys, utensils, fruits, street food and especially sweets of all kinds.
Darbar is all over covered with lights and glow material all the time. The doors of Darbar are never closed for any of the person. The miracles are very evident in this Darbar.
Suffi Atmosphere:
There is a kind of Suffi atmosphere all way around. Qawals and singers from all over Pakistan come to pay homage and perform Sufi Kalams and Qawalis in the Walled City Of Lahore.
The scenes are so much spiritual and take you to a new world. You can feel the peace even in the air. The loud music and Qawalis make you relax for long times.
There happened to be many Saints and Sufis but Hazrat Data Ganj Bukhsh Ali Hajveri has a mesmerizing history among all. He has a special place in Lahore and Islamic History. You can witness this by the exciting faces of people and the huge crowd on the streets outside Darbar. No other place is much privileged like Data Darbar.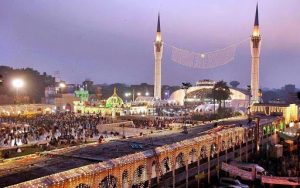 Tourist Attraction:
All the attractive factors have to make tourists spellbound. A lot of tourists from all over the world come to pay a visit to Data Darbar and witness the glory in Walled City of Lahore. It pays a major role in the income of many poor people.
Conclusion:
Data Darbar is the pride of Pakistani traditions that it can not be neglected. No one can even dare to remove it from the Walled City Of Lahore. It was present since ages and it will remain till the last day.
Pakistan Zindabad!